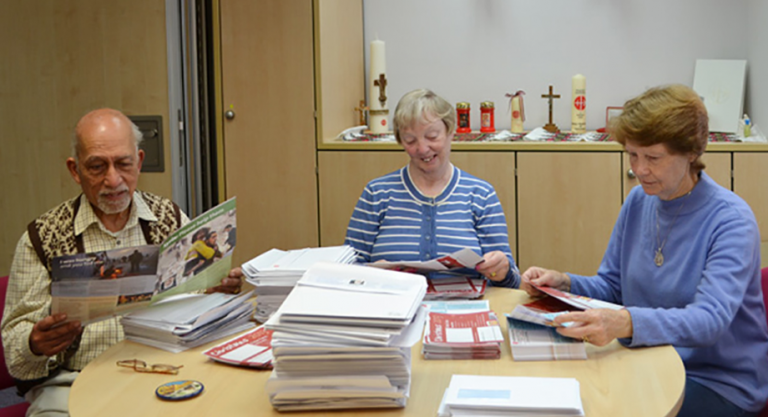 Our volunteers are an important – and very welcome! – part of our team at Aid to the Church in Need
Whatever your background and no matter whether you only have one or two hours a week to spare, we would be pleased to hear from you. Our volunteers become part of our community and many of them like to join us for Mass in our office chapel – whether or not they are due to be volunteering that day!
Where can I volunteer?
Most of our volunteers work in one of our offices – our national office in Sutton, Surrey, our North West office in Lancaster, our office in Motherwell, Scotland – or at our Information Centre in Walsingham, Norfolk. Depending on the skills and experience that you have, however, we may be able to offer you voluntary work which you can do at home, such as proof-reading our written materials.
Volunteering in your parish
If you are not based near one of our offices, but would like to get involved with our work, you might like to become a Parish Representative and share our mission with people in your local community. Find out more on our parish representatives page.
What tasks will I do as a volunteer?
We have volunteers helping in most of our office departments, from lending a hand with our correspondence with our benefactors, to assisting in our Accounts Department and even getting involved with our website. We hope we will be able to offer you the chance to do something you enjoy, and something which is really making a contribution to our work.
Work experience placements
From time to time we accept school students on work experience placements. We also consider gap year students, university students during their summer break or people wanting to maintain or refresh their workplace skills.
The number of placements we have available are limited, but  if you have an interest in or experience of journalism, social media, marketing, fundraising or event management we would be particularly happy to hear from you!
Our commitment to our volunteers
Our written Volunteer Arrangement sets out our responsibilities to you as a volunteer, and yours to us. We also adhere to an Equality and Diversity Statement and Policy.
After a reasonable period of volunteering, we are happy to provide you with a reference confirming your role, for your CV or as evidence of Church-related activity for school applications.
How to volunteer
If you would like to volunteer with Aid to the Church in Need, please contact Portia Borrett, Head of HR & Office Manager emailing your CV to [email protected]
You can also telephone us on 020 8642 8668. We will arrange for you to come to our office to discuss how you can help.