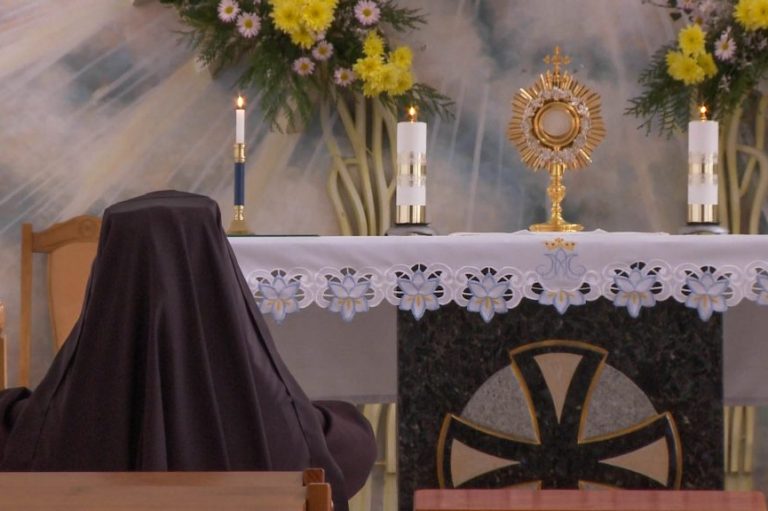 Join us to pray before the Blessed Sacrament each first Wednesday at 3pm.
These Holy Hours will focus on prayer for the suffering and persecuted Church, for clergy and religious (especially those who work in dangerous and challenging environments) and for all those who support the work of ACN in our world today.
**Easter Break** ACN Holy Hours will resume on Wednesday 2 June at 3pm.
| DATE | CELEBRANT/CHURCH | URL FOR STREAM |
| --- | --- | --- |
|  2 Sept at 3pm | Fr Dominic Robinson SJ, Church of the Immaculate Conception, Farm Street, Mayfair | Farmstreet |
|  7 Oct at 3pm | Fr Anthony Keefe, Chaplain, Monastery of Our Lady of Hyning, Warton, Nr Carnforth, Lancashire | Fr Anthony Keefe |
| 4 Nov 3pm | Father Jean-Patrice Coulon, MSFS, Parish of the Holy Ghost and St Michael, Yeovil | ChurchService.tv |
| 2 Dec at 3pm | Bishop Peter Brignall (Diocese of Wrexham) | Wrexham Diocese FB |
| 6 Jan at 3pm | Bishop John Keenan (Diocese of Paisley) | Bishop John Keenan Diocese of Paisley FB |
| 3 Feb at 3pm | Bishop John Arnold (Diocese of Salford) | Salford Diocese YouTube Channel |
| 3 March (3pm) | Canon Pat Browne, Church of the Holy Apostles, Pimlico | Church of the Holy Apostles, Pimlico Webpage |
| June 2 (3pm) | Archbishop John Wilson (Archdiocese of Southwark) | Diocese YouTube Channel |
If your parish or school would like to stream an ACN Holy Hour, please contact our Community Outreach Manager, Caroline Hull, to arrange a date. ([email protected]; 07815 538425)