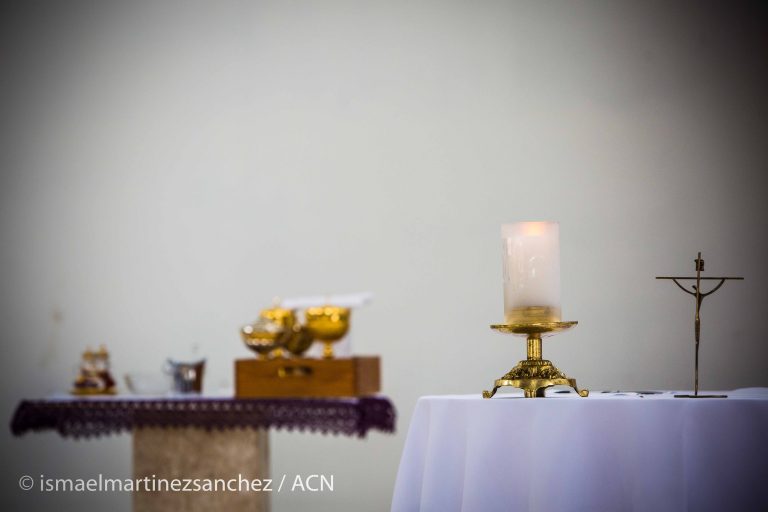 As you will no doubt agree, lockdown has been a challenge in many ways. One of these being how we, as Catholics, celebrate Mass, the Eucharist and indeed any form of prayer.
At ACN, we have found that many of our friends have enjoyed being able to live stream Masses and so we have created a schedule of Masses that will be offered for the work of ACN, for our benefactors and friends, and for all persecuted Christians.
These Masses will stream live from all around the UK. Check out our schedule and let's celebrate Mass together.
Toggle

Time
Date
Place
Streaming Link
See previous Masses
12:00pm
Saturday 4th July
Our Lady of the Lakes and St Charles, Keswick, Cumbria with Father John Moriarty
Click Here
10.30am
Saturday 18th July
Oratory at Wrexham Cathedral with Bishop Peter Brignall
Click Here
10:00am
Sunday 26th July
St Margaret's Cathedral, Ayr, with Bishop William Nolan
Click Here
12:15pm
Saturday 1st August
Sacred Heart Church, Bournemouth Oratory with Father Peter Edwards
Click Here
12:00pm
Saturday 8th August
St Edward's Church, Runcorn with Father Peter Wright
Watch Live Here
Watch recorded Here
12:00pm
Sunday 16th August
St Mirin's Cathedral, Paisley
Click Here
10.30am
Sunday 6th September
St Joseph's Chapel, Dundee with Bishop Stephen Robson of Dunkeld Diocese
Click Here
10.00am
Saturday 12th September
St John's Cathedral, Norwich
Click Here – Youtube
Click Here – Website
7.00pm
Friday 16th October
Our Lady & St Patrick's Church, Teignmouth with Fr Mark Skelton
Click Here – Facebook

9.00am
Sunday 18th October
St Bennet, Edinburgh with Archbishop Cushley
Click Here – Facebook
Click Here – Youtube
Click Here – Website
12.00pm
Wednesday 21th October
Fr Frankie Mulgrew, St James and All Souls, Salford
Click Here – Youtube
Click Here – Website

12.10pm
Saturday 31st October
St Wilfrid's Church, York with Fr Richard Duffield, Cong. Orat.
Click Here – Youtube

9.30am
Saturday 21st November
St Clare's, Fulwood with Father Andrew Allman
Click Here
10:00am
Tuesday 8th December (Feast of the Immaculate Conception)
Our Lady and St Illtyd with St Cadoc, Llantwit Major with Fr Mark Rowles
Click Here

NB: This is a private Facebook page, but Fr Mark will make it public five minutes before the Mass begins.