PAKISTAN: Extremists accused of 'inciting' millions to hunt down Shagufta and Shafqat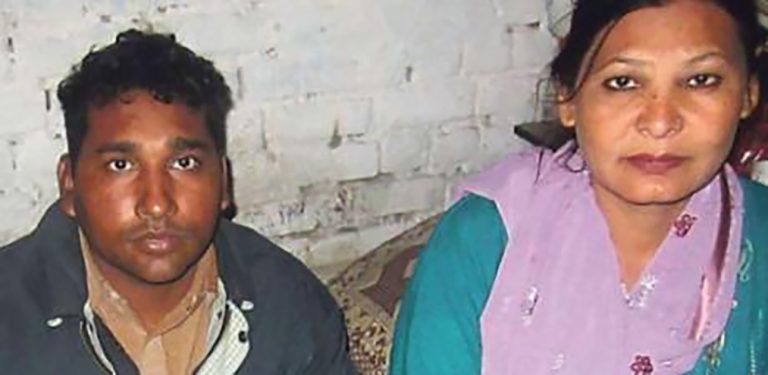 Islamists from leading religious parties in Pakistan stand accused of inciting millions to kill a Christian couple and their lawyer.
Saif ul Malook, who last week triumphed in the case of Shagufta Kausar and her husband Shafqat Emmanuel Masih, said influential Muslim hardliners have taken to social media to call on supporters to "conquer [i.e. kill]" both him and the couple.
Speaking today (Friday, 11th June) under tight security from Pakistan, Mr ul Malook told Catholic charity Aid to the Church in Need (ACN), which campaigns for persecuted Christians, that he stood accused of "collaborating" with blasphemers, a capital offence for Islamists.
Mr ul Malook was acting for the couple on 3rd June when Lahore High Court overturned a 2014 judgement which found them guilty in connection with text messages allegedly disrespectful to the Muslim Prophet Mohammad and in breach of Pakistan's notorious blasphemy laws. 
He said since last week's acquittal the couple's joy has turned to fear amid growing fears for their lives, a threat, he said, that was likely to grow in the coming days as the as yet unconfirmed date of their release from jail grows near.
Mr ul Malook said: "The messages in Urdu language on Twitter and other social media are very clear: Saif ul Malook, Shagufta and Shafqat should be killed. They need to be eliminated. It is very dangerous."
He added: "These messages from very influential Islamists belonging to religious parties are prompting ordinary people – millions of them – telling them that they will go to paradise if they kill me, Shagufta and Shafqat. For poor people, who are uneducated, this is a very big incentive."
ACN also spoke to Shagufta's brother, Joseph, who said: "All the family and I are very worried for Shagufta, Shafqat, her husband, and Saif ul Malook. The threats against them have to be taken seriously. Even in the prison there is a risk of them being shot or poisoned." 
Mr ul Malook said he is also being targeted as he had acted in the case of Asia Bibi, another Christian, whose blasphemy conviction was also overturned on appeal, sparking countrywide demonstrations.
He said he predicted wider disruption when Shagufta and Shafqat are released from jail than in October 2018 when protestors ground the country to a standstill after Pakistan's Supreme Court acquitted Asia Bibi.
Mr ul Malook said: "I would say I am more afraid now than when Asia Bibi was acquitted. Back then, nobody was putting such strong messages on social media inciting the people."
He added that Prime Minister Imran Khan's government was unlikely to increase protection for him and the couple, as, in his view, the regime is heavily dependent on support from voters with hard-line religious views.
Refuting claims of disloyalty to Islam, Mr ul Malook added: "I love the Prophet Mohammad (peace be upon him) in the same way the other Muslims do but acting in cases of Christians who are accused of blasphemy is my legal, constitutional and Islamic duty."
"Our faith as Muslims teaches us that if we kill one innocent person we have killed the whole of humanity and what I am doing is in no way against the teachings of Islam."