RUSSIA: OFFERING THE HOPE OF LIFE AND RESURRECTION
Father Sergij Belkov showed me two of the centres for recovering addicts he has set up – he told me they have an 80 percent success rate.
At Torfjanoe I met six young women from different parts of Russia and one from Ukraine. They are mostly in their early twenties. Alexandra, a former addict who has returned to be a volunteer, told me what a difference the centre has made: "This changed everything – everything in life, in relationships and with all people.Now I am a practising Christian. I love my work here and would like to volunteer here for a year or more. Afterwards I want to become a vet!"
In Sapernoye, 65 miles north of Saint Petersburg, I meet some of the 45 young men at another centre, located on the edge of the woods. It has its own chapel and each day begins with forty minutes of prayer and reflection – and each day ends with prayer too.
Fr Sergij tells me it all began when he was in a monastery near St Petersburg: "Some young drug addicts came to the monastery to seek help and to save their lives. This moved and inspired me – I was struck by the dependency on drugs. In 1996 I started the centre in Sapernoye with four boys." At the centres, residents learn practical skills they can use after they leave.
There are now 80 centres in Russia. Fr Sergij says: "In our new centre and farm being developed at Krasnoarmeyskoe, with ACN help, we hope to produce cheese. There are presently six people there and the church is being built – and we plan to have up to seventy in time."
ACN has promised more than £11,000 to cover the cost of cheese making equipment and for equipping a cattle stall where the animals can be kept.
"Thank you to the benefactors of ACN for giving pastoral and practical help – you helped with the carpentry machinery here, the kitchen and store at Torfjanoe and also for the farm at Krasnoarmeyskoe. We pray every day for the benefactors, that is our rule!"
SYRIA: MIRACULOUS ESCAPE FROM DAESH (ISIS)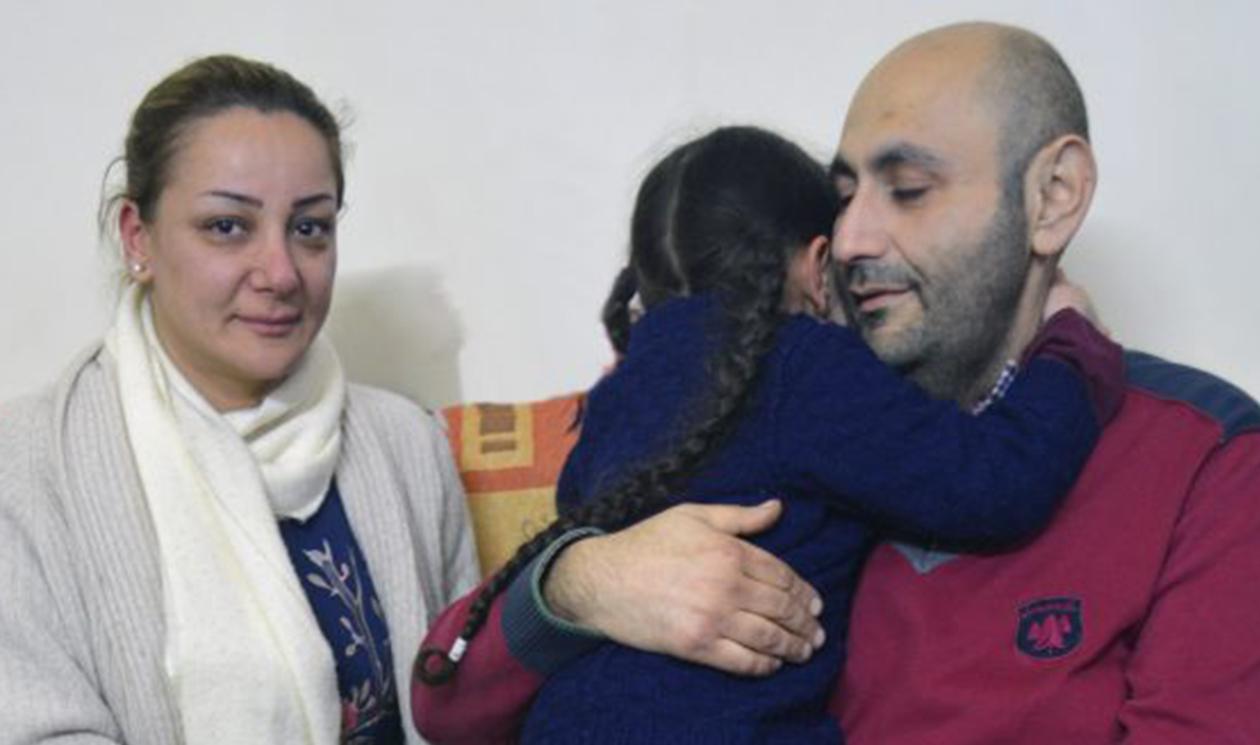 The story of Christian father of three Antoine from Aleppo and how he escaped Daesh after 62 days of incarceration.
One morning, Antoine arrived at work only to be kidnapped by the jihadi militants who had seized the factory as part of their takeover of east Aleppo. They put a knife to Antoine's throat and a gun to his head and told him to abandon his faith.
Determined to stay alive for the sake of his wife, Georgette, and three young daughters, Antoine's pact with God was to outwardly behave as a Muslim while secretly keeping his Christian faith. After many days of torment, Antoine received a visit from a Daesh 'Prince' who told him to prepare for a special mission – to be a suicide bomber. With Antoine in the factory, where he was confined, was a British convert to militant Islam whose job was to persuade him to do the deed.
Praying for deliverance, Antoine said that early one morning, while semi-conscious, he felt a tap on his shoulder from Our Lady; she was telling him to escape. Everyone in the building was at prayer and – seizing his moment – Antoine tiptoed to the main door.
To his amazement, the chains and lock slipped open, the door swung wide, and he stepped out. He hauled himself over a high wall, ran through the high-security barrier between east and west Aleppo, and made his way to a relative's house. There, he was re-united with his wife, Georgette, and daughters – Gezel, aged four, Eleanor, three, and two-year old Roula.
The family were destitute – until ACN project partner Sister Annie Demerjian found them a home, food, and medicine. Antoine explained that the family could not pay their rent and in response Sister Annie handed them the necessary funds – provided by ACN. Georgette gently squeezed her husband's hand and said: "Didn't I tell you that God never abandons his people."
INDIA: BITA'S STORY
Before I became a Christian, I had a lot of hardship and pain. One day while working in the fields, a catechist walked up to me and gave me a Bible. I was comforted when I read the word of the Lord.
So, I kept on reading and rereading my favourite passages. My husband, when he saw my enthusiasm, scolded me and asked why I was bringing this into our home.
The Gospel said that Jesus died for us on the cross. I felt that I am also ready for that. My sacrifice and my hardship is what I offer to God. Even if others will ridicule me.
My children were hungry and I was not able to feed them. I was very sad, but I kept on reading the Bible. My husband became sick so I kept reading the Bible. I believed in the power of the Gospel.
After several days my husband became well again and I managed to cook some food for my children. I started going to church along with my husband. My children's health has gradually improved.
The people in my village tell me to leave the church.  I will not leave my faith. My faith has grown very strong since that day in the field when I met that catechist.
Even if someone were to threaten me with harm or even death, I would not leave Jesus.
I am poor and sometimes I beg others for food and clothing for my children. I am alone and rejected in this world. But deep inside, I know the Lord is always with me.