Set Your Captives Free Report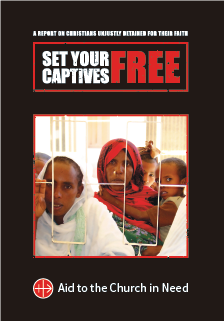 Set Your Captives Free: A Report on Christians unjustly detained for their Faith highlights how, in many countries, people's lives are overshadowed by authoritarian regimes and militant groups, leading to the constant threat of kidnap or arrest – simply for professing their Christian faith.
The main cases it examines are:
Pakistan
Maira Shahbaz, aged 14, living in hiding following death threats from a man who sexually abused her and forced her to covert and marry him after he kidnapped her at gunpoint.
China
Bishop James Su Zhumin, arrested by the communist authorities in 1996, having been and in and out of prison for 25 years. He has only been seen once since his arrest.
Eritrea
Patriarch Antonios, forced from office by the regime and, aged 93, is still under house arrest. No charge brought against him.
Nigeria
Teenager Leah Sharibu, one of more than 100 schoolgirls kidnapped by extremist group Boko Haram – but the only one not released, because she refused to renounce her Christian Faith.
 
Order your copy here: