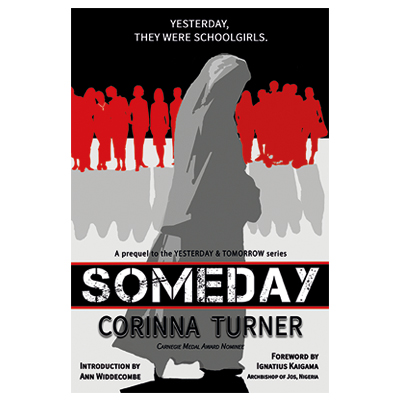 SOMEDAY
£7.99
Out of stock
Author: Corinna Turner (Carnegie-Medal nominated)
This new novella, is inspired by the shocking 2014 kidnap of over 200 schoolgirls in Nigeria by Islamist group, Boko Haram, which sparked a global '#BringBackOurGirls' campaign.
Re-imagined in a UK context, this 'page turner' begs the chilling question  -' What if it happened here?'
Carnegie-Medal nominated author, Corinne Turner is generously donating all the proceeds of sales of this book to Aid to the Church in Need.
Synopsis: Ruth and Gemma have a Physics exam in the morning. Becky and Alleluia are revising for their A Levels. So it's an absolute nightmare to be woken by the fire alarm in the dead of the night. But for them and for the 272 other  girls from Chisbrook Hall girl's boarding school, the real nightmare is just beginning, because al-Qabda are taking  them all away,whether they want to go or not.
Comments: "I hope that reading Someday will help people living in a different culture, in a security most Christians and indeed Muslims, in a north-eastern Nigeria can scarcely imagine, to better understand what people are suffering here."
Ignatius A. Kaigama, Archbishop of Jos, Nigeria                 

"The kidnapping of the Nigerian girls should never be written off merely as an unpleasnt historical event, about which we can no longer do anything and I am grateful to Corinna Turner for keeping alive the memory and reminding us of the shocking reality of the victim's situation. This book leaves you wanting to know more, wanting the girls to be rescued, wanting a happy ending. Alas, real life is different." Ann Widdecombe  
21.5cm x 14cm (8½" x 5½")
Paperback: 216 pages