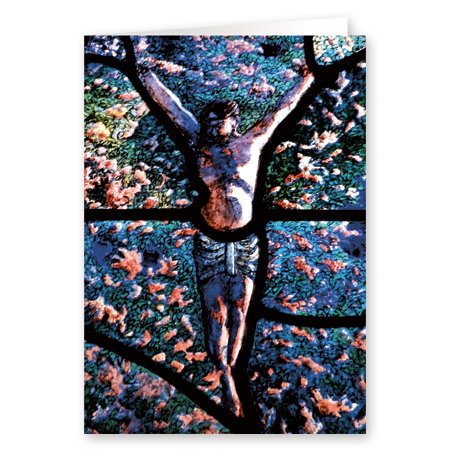 The Flowering Tree
£1.99
Out of stock
This quality, large Easter card is also ideal for a special occasion or perhaps even to frame. A detail from a stained glass window created for St Mary's, Iffley, by renowned artist and poet Roger Wagner.
In The Flowering Tree, the artist challenges us to view the Cross on which Jesus was crucified as the tree at which all human life can be forgiven and renewed.
Sister Wendy Beckett on The Flowering Tree
World-renowned art historian and Carmelite nun Sister Wendy discussed the Flowering Tree with Phil Tufnell on the BBC's The One Show. She told him: "This is the death of Christ when the Tree of Life came to its fullest flowering, because you can see Jesus is that flowering tree.
"And they used to call a Cross a Tree, which here is literally a tree, a tree that is bursting with the most beautiful blossom. It is both Jesus dying for us and giving us life and rising because you can see that it's full of joy.
"It's not a suffering picture; underneath you see the sheep represent us and then the great river of life is flowing very strongly from the tree. It is alive.
[Phil Tufnell: "It looks as if it is moving."]
"That's what light does – that is why light is the symbol of God. It comes through [the window] and shows us clearly the meaning and the beauty of the creation and redemption.
"It all speaks so strongly to actually living a life as I do, a life that wants to be close to Christ; so it overwhelms me. Words really are not enough."
Blank for your own message
Posts as standard letter
Individually wrapped
22.5cm x 16cm (8¾" x 6¼")