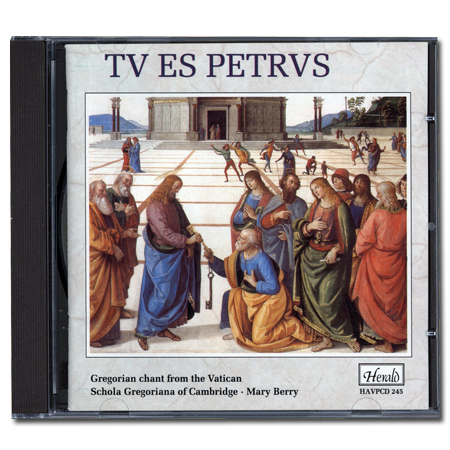 This special Jubilee Year album was recorded in the Vatican's Sala di Constantino to celebrate 2,000 years of Christianity.
Sung by the renowned Cantors of the Schola Gregoriana of Cambridge, the exquisite and meditative tracks consist of devotional material, both chant and polyphony, based on the life of Saint Peter.
The cover design is taken from Pope John Paul II's favourite painting in the Vatican.
Details:
Gregorian chant from the Vatican
Schola Gregoriana of Cambridge, directed by Mary Berry
Tu es Petrus
1. Tu es Petrus/O Roma nobilis
The calling of Peter
2. Dominus secus mare
3. Anon: Petrum cephas ecclesia
His declaration of faith
4. Quem dicunt homines
5. Quodcumque ligaveris
The giving of the keys
6. Alleluia: Tu es Petrus
7. Anon: Tu capud ecclesie
His triple denial
8. The Passion according to St Luke
9. Alleluia: Surrexit Dominus vere
10. Dufay: Aurea luce et decore roseo
"Feed my sheep"
11. Si diligis me
12. Petre, amas me?
13. Festa: Petrus apostolus
14. Tu es pastor ovium
15. Ego pro te rogavi, Petre
Peter after the Ascension
16. Carpentras: Petrus beatus
17. Surge Petre
18. Hodie illuxit nobis
19. Cum respexisset Petrus crucem
20. Palestrina: Tu es Petrus
CD; Running time: 60:19