RED WEDNESDAY 2018
Make a Stand for Faith and Freedom on Wednesday 28th November 2018
Christians around the world are being persecuted because of their faith. Will you show your support for the Suffering Church?
Aid to the Church in Need are being joined by Christian Solidarity Worldwide for this campaign, but we need your help. Join us on Wednesday 28th November – #RedWednesday, and stand in solidarity with persecuted Christians and faith minorities who suffer unjustly for their peacefully-held beliefs.
Let's spread the word and use social media to make #RedWednesday 2018  a campaign that cannot be ignored.
By joining us in prayer, by wearing red, lighting your church red, by organising red-themed activities or attending #RedWednesday events, you will be doing something peaceful and positive to highlight the suffering – injustices, discrimination, violence, oppression, torture and death – of so many Christians and others today which goes largely unnoticed by the world.
BE A DIGITAL CHAMPION FOR ACN
Around the world huge numbers of Christians are suffering discrimination and persecution in silence. They need our prayers and our action.
Be a Digital Champion for ACN and help promote our work, information and campaigns across the digital world.
ACN Digital Champions will get early access and notifications of upcoming campaigns, appeals and events. You will be able to to spread the news of our work and the plight of Persecuted Christians around the world.
FUNDRAISE FOR #REDWEDNESDAY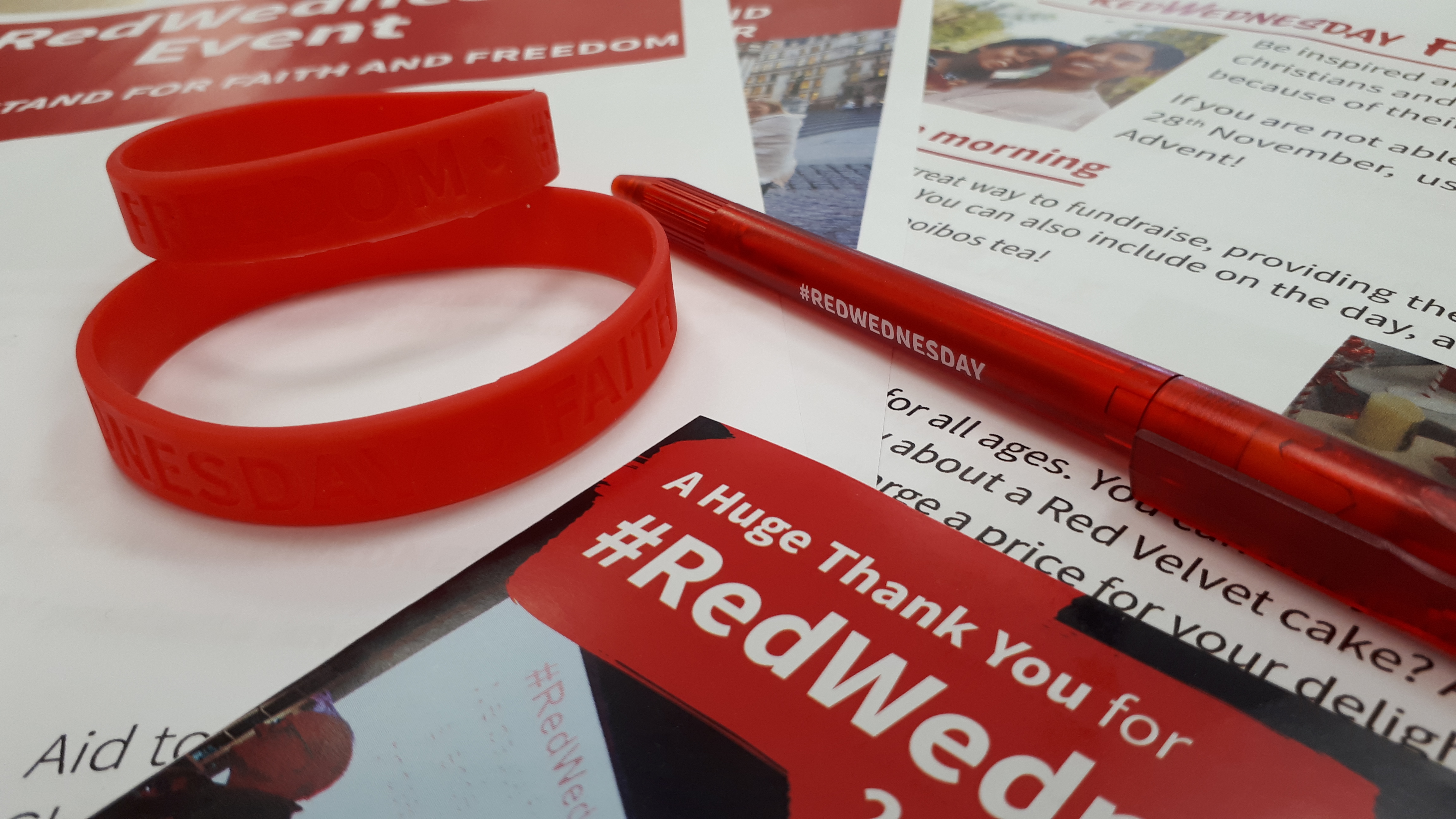 Will you take up the challenge of helping to sustain the faith of millions of persecuted and suffering Christians around the world?
ACN's #RedWednesday kit includes.. Poster, Fundraising ideas, Information pack, Prayer material. How to Light Red guide and much much more!
For instructions on how to light up a building click here.
There are also extra posters available for download here to use at your events.
ORDER YOUR FREE FUNDRAISING KIT
PREVIOUS EVENTS – #REDWEDNESDAY 2017
Fr. Dominic Robinson leading #RedWednesday cross procession from the Houses of Parliament to Westminster Cathedral. ©Weenson Oo
It was fantastic to see so many people making a stand for faith and freedom and honouring those who have suffered because of their religion.
Pupils from The Cardinal Vaughan Memorial School supporting #RedWednesday. Many places across the country got involved and lit up red such as Portsmouth Cathedral, Lambeth Palace.
St Chads Cathedral, Westminster Cathedral, and many many more.Hundreds also wore red to show their solidarity and shared their pictures in honour of #RedWednesday.