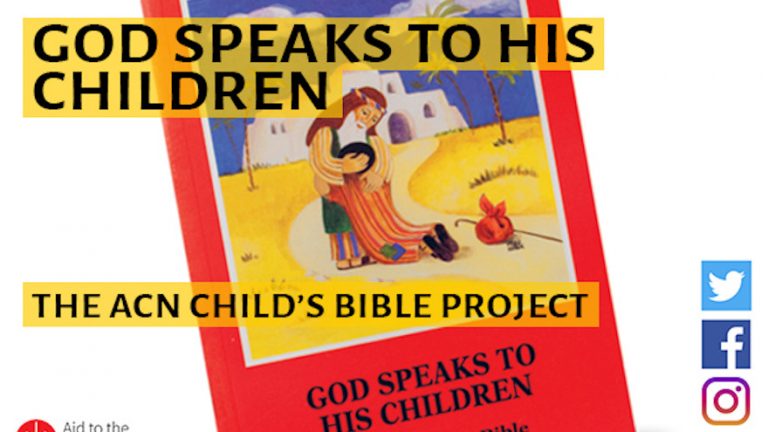 Welcome to the ACN Child's Bible Project webpage!
Use our brilliant daily resources based on each chapter of the Child's Bible.
Have a go at our Child's Bible Memory Game.
Spend some time on our interactive ACN Child's Bible world map.
What is the Child's Bible all about? Watch our video to find out more!

We want to see what you make and find out what you thought of our games, mini-dramas and other activities! Ask your parents and teachers to follow us on social media so they can share and post what you've created.
We hope you and your families, teachers and classmates enjoy using these resources as much as we have enjoyed putting them together. They are especially for you, from all of us at ACN!
DOWNLOADS AND RESOURCES
ACN Child's Bible Memory Game

Test your skills with our ACN Child's Bible Memory game!

Interactive Map

ACN Child's Bible Project Interactive Map

---


A message for parents, teachers and carers:
Thank you for engaging with the ACN Child's Bible Project in your home, parish or school. We have made every effort to provide you and your children with a wide range of activities requiring only the natural creativity of the children and items easily accessible at home or in school. The ACN Child's Bible Project links in very well with the God Who Speaks, and we are delighted to have the support of the Bishops' Conferences of England and Wales and of Scotland as we undertake this initiative.
A short prayer and a fun activity inspired by each chapter can be found in the workbooks below.  Each day's activity is linked to a video on YouTube. The videos are released each weekday at 10am on Twitter (@ACN_Schools, @ACN_Scotland, @ACNUK_NW); at the end of each week, the links are added into the workbooks, so you can catch up if you've missed anything.
While these resources can be enjoyed on their own, you may wish to reinforce what your children or classes have learned by encouraging them to read the chapters for themselves. The ACN Child's Bible can be purchased from our website for just £3. (Discounts may apply for schools and parishes.)
Your purchase will be enjoyed by the child who receives it but will also enable ACN to send three more copies to children elsewhere in the world—children who may not own any other book and who will use the ACN Child's Bible to learn to read and to discover their faith. Please help us help them if you can. Thank you!