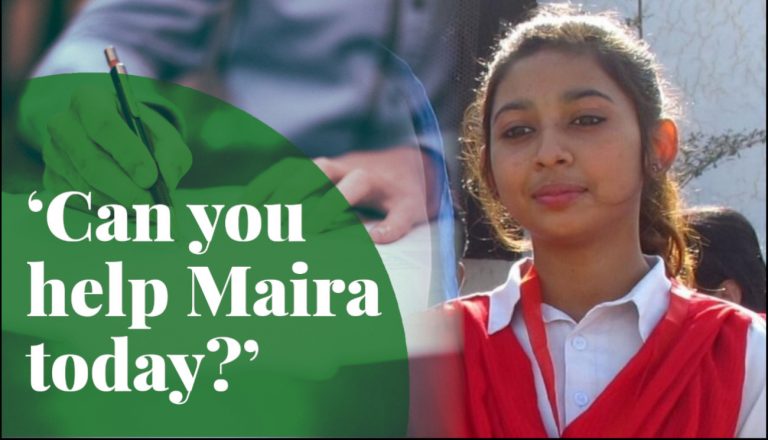 Maira Shahbaz / Aid to the church in Need
"I request to all communities – please pray for me. I pray for all the girls in our Christian community." Maira Shahbaz
MAIRA SHAHBAZ NEEDS YOU!
Maira, a 14-year-old Pakistani Christian, was abducted from her home near Faisalabad in April 2020. She was raped, forced to deny her Christian faith and made to marry her abductor. Maira escaped and was reunited with her family, but they are still in danger. ACN is supporting an asylum bid to bring Maira and her family to the UK.
Please #Go2Mass for Maira and sign ACN's Letter to Maira.
Here are FOUR simple things YOU can do today to help Maira and others like her:
Go to one extra Mass and pray for Maira, her family and other young girls in similar situations. Show the world that you care about persecuted Christians by taking a selfie outside your church and posting it on social media with the hashtag #Go2Mass. You can tag us in on the platforms below.
Add your name to ACN's Letter to Maira to let her know that she is in your thoughts and prayers.
Tell us a bit more about you so we can send you free resources for your prayer groups, RE lessons, assemblies, liturgies, university groups, debates, sacramental programmes and home schooling.
Use the box at the bottom of this page to sign up to ACN's weekly enews. Find out more about suffering Christian communities around the world and what you can do to help.
Dear Maira,
When I heard what happened to you, I wanted to write a letter to you because I was so shocked by the story of your horrendous ordeal. I think about you a lot and I feel outrage at the attacks you have suffered, just as if they had happened to my own sister or myself. I want you to know that people like me on the other side of the world are thinking and praying about you a lot.
I am 17, and as a young Catholic girl, I want to stand in unity with you. I know that you have asked all communities to pray for you and for other girls in your position. I'm going to go to an extra Mass for you. At the consecration, when Jesus Himself is there, I am going to beg Him for you to get asylum and to find peace and healing.
When things are really tough for you, maybe you could imagine people like me going to pray for you and know that your courage and faithfulness give lots of young Catholics like me the strength to hold true to our faith. You have helped me. You may not think so, but you are a wonderful example for us. You give us hope for the future.
I really hope that you get asylum in this country. I am going to join campaigns to make that more of a possibility. Pope Francis said that the world is "trying to hide" the persecution of Christians, so it is up to people like me to tell your story.
I pray that you will be able to come to Britain where you can feel safe and free. You will have many friends waiting for you here, and I would love to be one of them.
Love Lena-Marie (London)
Like Lena-Marie, we the undersigned want you to know, Maira, that we stand with you in love, solidarity and prayer.
Your prayers and support will mean so much to Maira. Thank you for giving her the gift of hope for a brighter future.