Maisy Milk Rosary for peace and plant pot fundraiser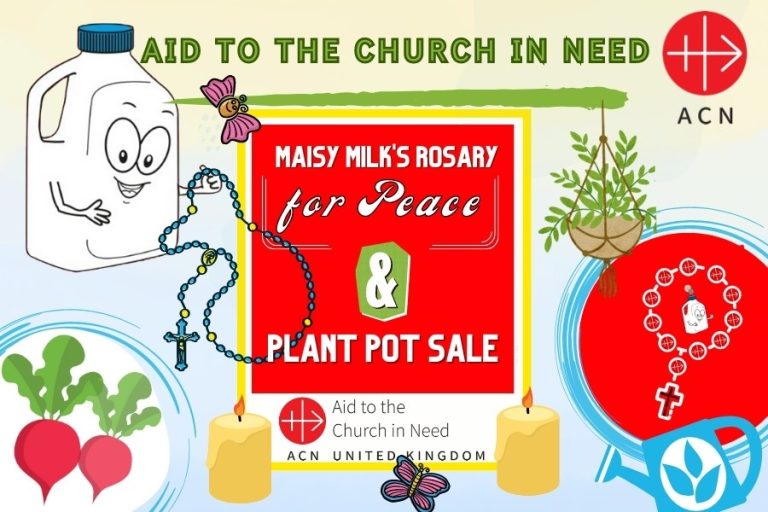 Maisy Milk is back in 2023 with ACN's Maisy Milk Rosary for Peace week. This year the project includes Maisy Milk's Plant Pot Fundraiser for schools, parishes and home.
This amazing project gives you everything you need to join with thousands of schools and parishes to pray for peace and grow plants to sell for ACN!
PLEDGE YOUR ROSARY DECADES NOW!
Children will begin to understand the power of the rosary and have the opportunity to provide funds to help Christians and others suffering from persecution, poverty and war. Maisy Milk features in the classroom activities which include a timeline to celebrate the Feasts of Our Lady and Postcards from Maisy. Maisy is a fun character who encourages children to pray and put their faith into action. With this resource children will become part of the ACN family through:
PRAYER:
Prayers are provided for the daily decade as we ask for Our Lady's intercession and protection on behalf of those countries in great need. Groups can join ACN staff leading the daily decades.
INFORMATION:
Maisy Milk invites children to watch two age-appropriate videos and engage with the people being supported by ACN.
ACTION:
Children are invited to take action by selling potted plants and by filling used milk cartons with spare coins. Maisy Milk shows how we can reuse milk cartons to grow plants to sell in our Maisy Milk Plant Pot Fundraiser. Seeds will be provided for schools if required.
We ask schools to pledge their rosary decades on the form below. New schools will get 100 free rosaries and returning schools will receive a class set. Last year 112,619 decades were pledged, so let's see if we can beat this record in 2023! We ask that schools encourage their students to join us for our Daily Decade online and share on social media their photos and videos of their Daily Decades and engagement with our resources.
Are you taking part in the Maisy Milk Plant Pot Fundraiser? (please let us know in the form below and we will send you a pack of seeds).
Everything you need is on the presentation and in the booklet including a planning guide, activities, letter templates and videos.
Thank you for help in building God's Kingdom!
ACN Maisy Milk Rosary and Plant Pot Fundraiser If you would like a PowerPoint or Google Slides version of this presentation, please contact [email protected]
ACN Maisy Milk Booklet If you would like a PowerPoint or Google Slides version of this presentation, please contact [email protected]
If you would like a pdf or word version of this booklet please contact [email protected]
Maisy Milk Rosary Pledge
Schools pledge your decades !!!!

If you have enjoyed our Rosary Week why not become a 'fundraising friend' of Maisy Milk and raise funds for our projects in Syria and Nigeria! Check out our Maisy Milk Fundraising Tool for schools Aid to the Church in Need | Maisy Milk (acnuk.org).