Maisy Milk Rosary for Peace Initiative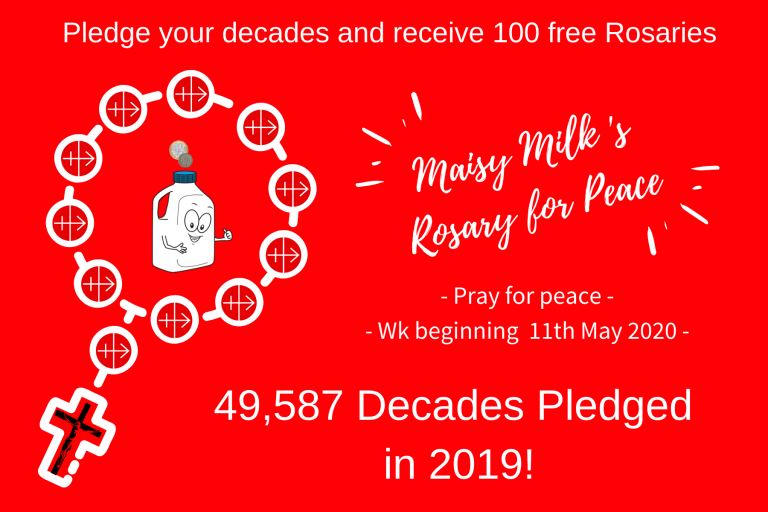 A fun, educational and prayerful tool for children and families to use together.
Join our Social Media prayer initiative! Maisy Milk invites Schools and families to join the ACN Schools Team in praying one decade of the Rosary each day for one week in May, wk commencing 11th May 2020 (which includes the feast of Our Lady of Fatima). We offer our prayers for peace in our world and ask for Our Lady's intercession and protection on behalf of Syrian families and Nigerian widows and orphans.
Every school that pledges their decades on the form below will get 100 free Rosaries for their school!
49,587 decades were pledged in Scotland in 2019, let's see if we can beat this record in 2020! We ask that schools encourage their students to join us for our Daily Decade online and share on social media their photos and videos of their family Daily Decades and their engagement with our resources.

To access our Daily Decade Videos please click playlist icon
on video above and select the Daily Decade of your choice.
Why not download our Rosary resources; a Rosary Guide, Daily Reflections and activities. Helping families get ready to organise a May Crowning Procession in their home and gardens!
These resources give your students the opportunity to explore reflections and prayer as well as access their creativity.
Pledge your decades in the form below and you will go onto our map at the bottom of the page, a great resource showing the power of prayer, perfect to use in a school!
Maisy Milk Rosary Pledge
Schools pledge your decades NOW!!!!
(Rosaries will be posted out once our ACN Offices reopen following the Coronavirus Pandemic)