BLOG: Time for a rethink on UK overseas aid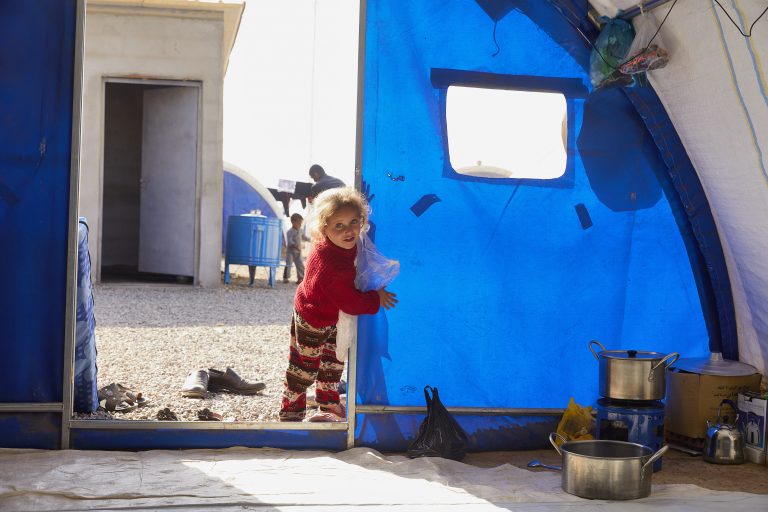 Be it in Iraq, Syria, Pakistan or Nigeria, project partners of Aid to the Church in Need have repeatedly raised concerns about the efficacy of British overseas aid. These concerns and others are addressed in this article in The Spectator on 27th June 2020 by Rt Rev Dr Michael Nazir-Ali, former Bishop of Rochester.
Written in the context of the Government's decision to merge the Foreign & Commonwealth Office (FCO) and the Department for International Development (DFID), Bishop Michael calls for a rethink about the role of UK overseas aid. He challenges the UK Government's "faith blind approach", a policy of avoiding cooperation with faith-based organisations in the delivery of aid. Specifically he appeals to the Government to provide aid through the Church, and where necessary, to the Church – i.e. Christians. He describes being a guest of ACN during a visit to northern Iraq soon after the summer 2014 Daesh (ISIS) invasion of Mosul and the Nineveh Plains.
Visiting families living in displacement camps months after their ancient homelands were overrun by Islamists, he saw for himself the emergency relief – the food, shelter, medicine and schooling – provided by ACN and other Church organisations. Where was the support coming from the UK or other national governments?
It is a question that we should pose in so many countries around the world where ACN is active; these are countries where the UK and other Western countries have apparently turned a blind eye – a faith-blind eye, to be precise – to the genocide of Christians and the silent but deadly oppression of faithful in so many forgotten corners of the world.