BLOG: Archbishop Shevchuk – "Thank you to all those who are doing everything to stop the war"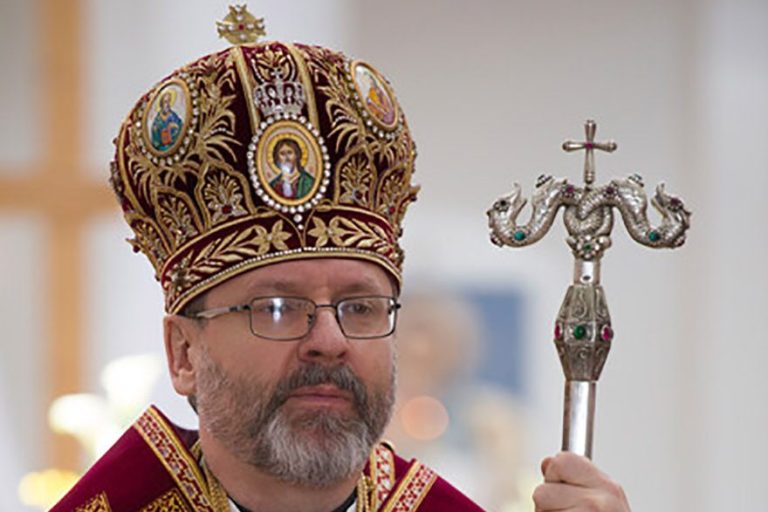 The leader of the largest Catholic Church in Ukraine, Major Archbishop Sviatoslav Shevchuk, has expressed his gratitude to all those who, at an international level, are doing everything they can to put an end to the "horrific" war in his country.
Since the beginning of the conflict the leader of the Ukrainian Greek-Catholic Church (UGCC) has been publishing daily videos to encourage his faithful and other Ukranians during these difficult times.
In his video of Friday 11 March, Major Archbishop Shevchuk singled out for thanks all those who have been working for peace , including international religious figures,.
"Today I wish to sincerely thank all those who, at the international and inter-religious level, are doing everything to stop the war. I thank the Orthodox brethren, particularly in Germany and Western Europe, and the Russian Orthodox Church abroad, which is trying to serve refugees and which is appealing to the church hierarchy in Russia for the need to end the war immediately."
The Major Archbishop also thanked the World Council of Churches, which wrote a letter to the Patriarch of the Russian Orthodox Church asking him to do all he could to try to stop the war.
In a second video message, published on Saturday 12 March, the primate of the UGCC said: "War is always a failure for humanity. War is always a moment of shame, a moment in which man's dignity is humiliated. When we strive for peace, everything is possible. When war breaks out, we can lose everything.
"In Ukraine, today, we are seeing great contempt for human dignity. With war, man loses his humanity, especially he who starts war, he who starts war diminishes himself in his humanity. He who kills his neighbour, before all else, destroys the humanity within himself, destroys his own dignity", says the Major Archbishop.
 As the war approaches its 20th day, civilian casualties have been increasing and the difficulties of the conflict prevent proper burials. "Our heart aches to see thousands of people buried without a prayer, without Christian respect, in mass graves, with no identification."
"How important it is for us today to show respect for the bodies of the dead, be they military or civilian", concluded Major Archbishop Shevchuk, who asked all the priests in Ukraine to pray for the victims of this war, regardless of their nationality or religious affiliation.
ACN is providing an emergency package of more than £1 million (€1.3 million). Dr Thomas Heine-Geldern, international executive president of ACN, said the money will go to priests and religious who work across the country in parishes, or with refugees, orphans and the elderly. The charity is also asking for prayers for peace in Ukraine.