BLOG: "Thanks to you my children sleep safe, far from the war"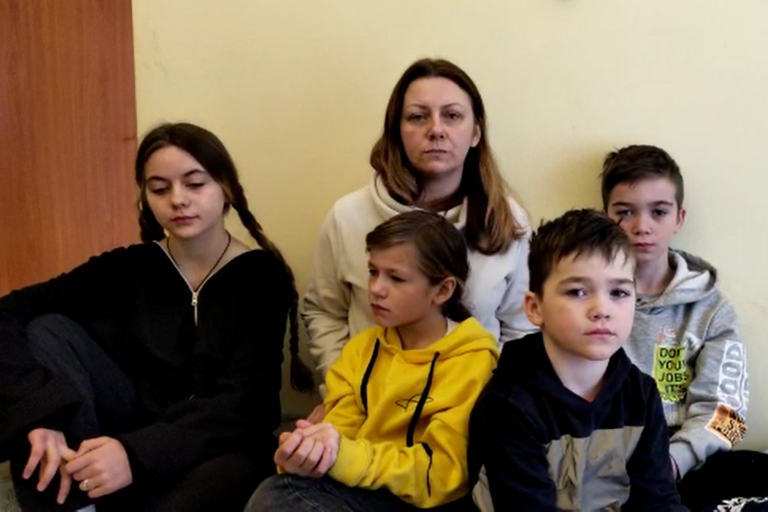 A mother who fled a Russian bombardment on her home town near Ukraine's capital talks about the aid she has received from the local Church.
"My name is Yulya and these are my daughters Sofiya and Anastasia, and my nephews Ivan and Demian. Until 24th February we all lived in Brovary." says the young mother as she starts to describe her situation. Brovary is just over four miles from Ukraine's capital Kyiv. In the first few days of the war it was struck by missiles, leaving seven people dead and 17 wounded. "My brother and I decided to get the children to a safer place, to our parent's town, which is 20km [12 ½ miles] outside of Brovary," Yulya explains, as she sits on a mattress on the floor, surrounded by her daughters and nephews, aged from six to 13.
"My brother is a soldier. Since 2014 he has been defending the territorial integrity of the country, and his wife also enlisted in the armed forces when her maternity leave ended", she says, is why she is looking after her nephews.
"On 6th March it became clear that the frontline was drawing closer to the place where we were, the explosions became increasingly louder, and with shorter intervals," she tells Aid to the Church in Need. Yulya matter-of-factly describes what must have been a terribly painful decision for her brother's family: "So, with their parent's approval, we decided to get the children to safety further away."
The question remained, however: where could they go? Yulya did not want to set off with four children into the unknown, "So I asked my parish priest, Fr Roman Laba, for advice".
The priest suggested she get in touch with a fellow member of the Pauline Order, Fr Yustyn, who at that time was in Kamianets-Podilskyi, in the west of the country, close to the border with Moldavia and Romania. "I decided to act on his advice, and we were warmly welcomed here. When we arrived in Kamianets-Podilskyi the children were able to sleep on beds and under a roof, free from the sound of gunshots and explosions".
"Father Yustyn has given us all we need: hot food, a place to stay, beds and even school material, so that the children can continue to follow their classes online. We are grateful, from the bottom of our hearts, to all the benefactors, who allow our children, and myself, to go on living with dignity. My brother and my whole family are thankful to all who have come together to help us".
ACN is providing an emergency package of more than £1 million. This includes helping the Eparchy (diocese) of Kamianets-Podilskyi as it supports people in dire need because of the war.