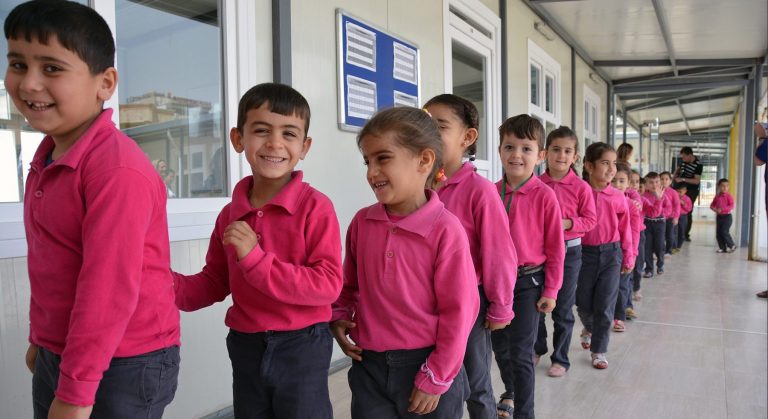 This is the story of Mar Elia — a community of 120 displaced Iraqi families, amounting to some 500 people who fled here when Daesh captured Mosul and Nineveh Plains.
It is a story of a miracle that brought people together, working for each other, in the worst of conditions imaginable.
These were people who once had stable lives: they lived in proper homes; they had family life, livelihoods and community. In an act of brutality, Daesh removed that existence, uprooting them from their ancestral homes.
When the people first arrived at the Mar Elia compound, they were traumatised, thirsty and hungry — and so fearful of the future. They slept rough in the open air and all they had were the clothes on their backs. Over the weeks and months tents eventually came, and finally portable cabins which were funded by ACN. To begin with, the living conditions in Mar Elia were challenging with people living in very confined spaces and neighbours a few feet away. But they were grateful to be alive. Archbishop Warda and his teams of priests rose to the occasion and have been a pillar of strength for the people.
The Archdiocese built a playground in front of the Church; it was amazing to see the children playing and being watched by their grandparents. They formed schools with the help of ACN, as the language and education is different in northern Kurdistan. The streets around the church were bustling with stalls selling everything from vegetables to household goods, which brought back a sense of community. All of the 120 families are now in rented housing. Those who can find jobs locally are working to help with some of the expenses. During this period of time, the Archdiocese gave constant encouragement, preached the Gospel, and taught catechism classes, encouraging all in the Word of God and to have faith in the Holy Spirit. Thanks to your prayers and generosity, you too are part of this miracle of friendship and you will remain part of the story of Mar Elia for generations to come.
About the Author
John Neil is currently living among displaced Christians, who are being supported by the Church. Over the past year, he has witnessed the miracle of your friendship and how through your generosity, ACN is offering help to the people there.