HOLY LAND: Churches warn of rise in anti-Christian incidents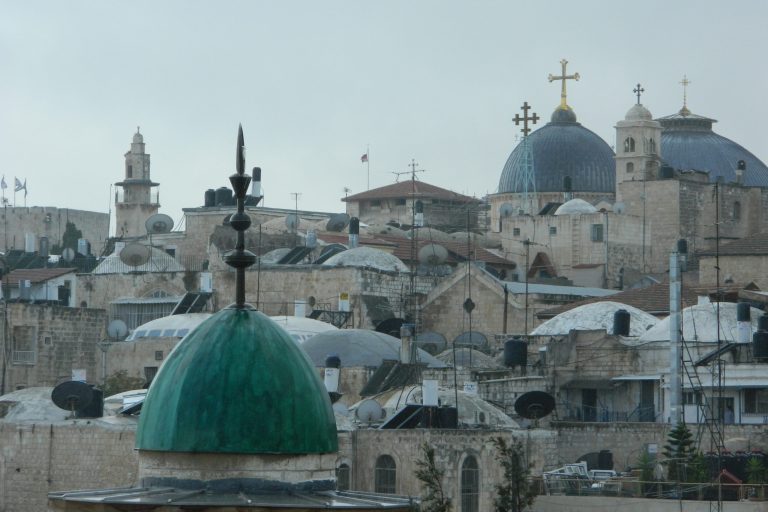 Church leaders in the Holy Land have spoken out about an increase in anti-Christian incidents – including attacks on holy sites, schools and even funeral processions.
In a joint statement by the Patriarchs and Heads of the Churches in Jerusalem, a copy of which was sent to Catholic charity Aid to the Church in Need (ACN), they decried the troubles affecting the lives of the faithful during these "tumultuous times".
It stated: "As we have all seen in recent months, escalating violence has engulfed the Holy Land. Local Christians, in particular, have increasingly suffered adversities".
The Easter message continued: "For over the past year, some of our churches, funeral processions, and places of public gathering have become targets of attack; some of our holy sites and cemeteries have been desecrated; and some of our ancient liturgies, such as the Palm Sunday Procession and the Holy Fire Ceremony, have been closed off to thousands of worshipers.
"This is in spite of our agreements to cooperate with the governing authorities, and to accommodate any reasonable requests that they might present."
ACN's 2022 Persecuted and Forgotten? A Report on Christians oppressed for their Faith stated that there were 182,000 Christians in Israel in 2021, according to its Central Bureau of Statistics. Around 60 percent belong to the Melkite Greek Catholic Church.
While the overall Christian population of Israel is growing – increasing by 1.4 percent in 2021 – in the Palestinian Territories historic Christian communities continue to decline.
Before the State of Israel was established in 1948, Christians made up 18 percent of the population of the West Bank – that figure is now less than 1 percent.
Reasons for emigration are various, including concerns about discrimination in employment, militant groups and restrictions on movement caused by the West Bank Barrier which gives rise to major economic problems.
Despite all the difficulties, the joint statement of the Patriarchs and Heads of the Churches in Jerusalem ended on a hopeful note: "While we will persevere in these good-faith efforts [to cooperate with the authorities], we ask the overseeing officials to work cooperatively and collaboratively with us, even as we call upon international community and local residents of goodwill to advocate on our behalf, in order to help secure the safety, access, and religious freedom of the resident Christian community and the millions of Christian pilgrims annually visiting the Holy Land…
"Yet in welcoming this support, we do not finally place our hope in the hands of any human source.
"We place our ultimate hope only in God. For through Christ's resurrection, we have the blessed assurance of the Almighty's gracious providence through the Holy Spirit, a source of divine power that is able to sustain us today, just as it sustained Jerusalem's first Christians those many centuries ago."