NIGERIA: "Hope inspired by faith in God" nurtures seminarians' wisdom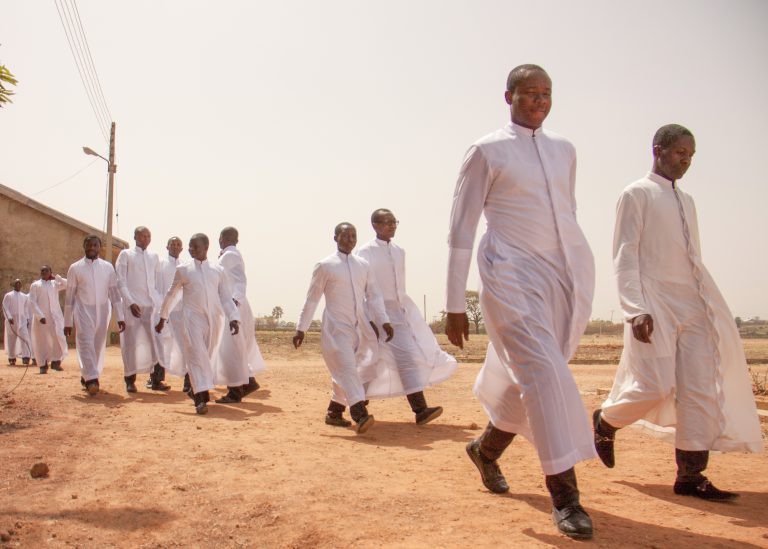 "We teach and guide young men to the vocation of priesthood," said Fr Uzochukwu Jude Njoku, director of the Seat of Wisdom Seminary, describing the daily life of the 600 seminarians in Owerri, southern Nigeria.
Fr Jude told Aid to the Church in Need that this large number of Nigerian seminarians is due to their "hope inspired by faith in God due to the spiritual consciosness of the African people… Africa is deeply religious".
forming the character for the Church's mission
He outlined how the seminary's professors strive to "form the inner person to be open to God… [and develop] an openness and disposition for the virtuous life pattern of a priest".
Commenting on the seminary's name he added: "The Seat of Wisdom is the Blessed Mother's lap, where Jesus Christ sits".
Fr Jude said: "At the seminary, the core subjects include moral theology, Catholic social ethics, homiletics and pastoral theology".
 growing discernment… 
He said that the subjects facilitate "the whole process… the spiritual, academic, the 'human' and psychological or pastoral [helping the young man] to become a shepherd of the people of God".
The seminarians concentrate on philosophy for the first four years and then, after a pastoral year out, they return for a further four years of theology.
waking the spirit… 
Fr Jude outlined their daily routine at the seminary: the "students rise at 5am for one hour of prayer with meditation and liturgy of the hours and then there is the Angelus at 6am."
He said: "We have holy Mass at 6:30am, after Mass they breakfast in silence… silence helps the student to open himself to God. At 8am they study until the Angelus at noon.
"The seminarians have their lunch in silence with spiritual readings at 1pm, which includes passages from the Bible, the Lives of the Saints and Imitation of Christ by Thomas á Kempis."
He added: "Due to the heat, which can be as high as 45 degrees, they have a 'siesta' for one hour with further studies until 6pm where they break for the Angelus and rosary."
Fr Jude also said: "After individually assigned chores, there is Vespers or evening prayers with conferences and group discussion with spiritual directors.
"Compline or night prayer is at 8pm, then allowing for private studies and personal time until 11pm."
 to celebrate the sacraments and his presence
The seminarians schedule includes "Friday's benediction with exposition of the Blessed Sacrament" and extends to "late evening rosary to the Blessed Virgin in May and to St Joseph in October".
He said: "We are forming the character for the Church's mission… growing discernment… waking the spirit… to celebrate the sacraments and his presence".
Fr Jude thanked ACN benefactors for their continued support.
Aid to the Church in Need – www.acnuk.org contact: [email protected] or call 020 8642 8668
Article first published in The Portal http://www.portalmag.co.uk/