INTERNATIONAL: Standing in solidarity with those suffering for their faith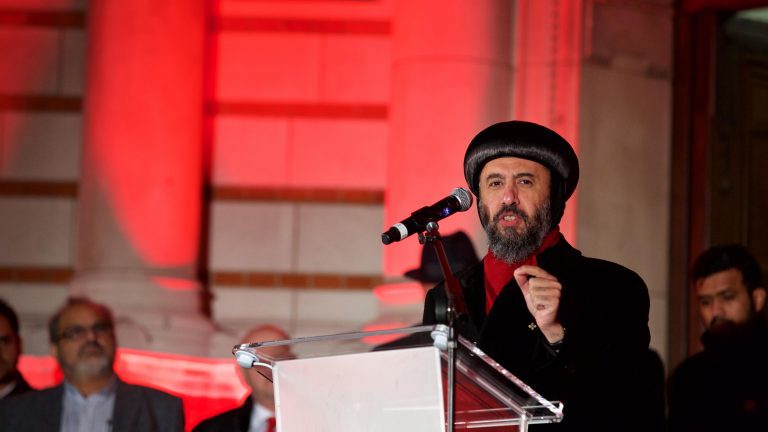 #RedWednesday is a sign to those who suffer for their faith around the world that they are not forgotten – according to the newly appointed Coptic Orthodox Bishop of London.
Coptic Orthodox Bishop Angaelos' remarks came during an address he gave at a service outside Westminster Cathedral to mark #RedWednesday (22nd November) which drew attention to the persecution of Christians and members of other faiths.
Pointing to the busy streets of London, Bishop Angaelos said:  "In the midst of all of this, it is unfathomable to think that there are still hundreds of millions potentially who suffer for their faith today.

"As Christians, of course, we focus on the plight of our brothers and sisters. But as Christians we also recognise the absolute right… to us all made in [God's] image and likeness – whether Christian or another faith or of no faith at all – to have that freedom to choose. And today we stand together for that."
Bishop Angaelos drew attention to the #RedWednesday campaign which saw dozens of churches floodlit red across the UK – including Westminster Cathedral behind him.
The Coptic Orthodox Bishop of London said: "It is essential that we stand together, not only tonight, not only when our buildings are lit red – as is our cathedral – to signify not only the blood of the martyrs but the continued struggle of those who have faith during these days."
He added: We come here and we think that this is just us standing here in the midst of London, but I assure you that your sisters and brothers around the world – Christians and otherwise – are moved by your witness. It strengthens them, it inspires them, it assures them that they are not forgotten."
He reported that there were now 13 million Christians in Egypt – where the Coptic Orthodox Church began – and that today they represent around 80 percent of all Christians in the Middle East.
Bishop Angaelos said: "In neighbouring countries our brothers and sisters have either left or more tragically lost their lives."
The service on Westminster Cathedral Piazza, which started at 6pm, also included music by Soul Sanctuary Gospel Choir, video presentations as well as speeches.
Among the speakers were Jim Shannon MP, Chairman of the All Party Parliamentary Group for International Freedom of Religion or Belief, Mervyn Thomas, Chief Executive Officer of Christian Solidarity Worldwide, Syriac Orthodox Archbishop Athanasius Toma, Westminster's Auxiliary Bishop Nicholas Hudson, Ahsan Ahmedi, Regional President of the Ahmadiyya Muslim Community UK.
The event was preceded by a procession to the cathedral piazza with a life-size cross from London's Houses of Parliament – which were lit up red in solidarity.
Teenager Hannah Chowdhry, a volunteer with the British Pakistani Christian Association, described the situation of Christians in Pakistan, adding: "700 Christian Girls are kidnapped, raped and forced into Islamic marriage every year – yet the world stays silent.
"The average age of those abducted is 13. To help you gain some perspective I am also 13."
Speaking during the service, Neville Kyrke-Smith, National Director, Aid to the Church in Need (UK), said: "Surely in this day and age, it is unacceptable that someone should be denied work, housing, liberty – or even lose their life – because of their religious belief? Yet this is what is happening in so many parts of the world.

"So I am delighted that so many are supporting our campaign – at Aid to the Church in Need  with Christian Solidarity Worldwide and others – to stand up for the rights of everyone to follow their Faith without coercion, reprisals or persecution."
Mr Kyrke-Smith noted that numerous churches were going red not only across the UK but also in Ireland, Malta, Gibraltar, the Philippines, and parts of the USA.
More than 200 people had attended a vigil ceremony for #RedWednesday at Armagh Cathedral. Waterford, Sligo, Galway and Thurles Cathedrals also lit up red.
In the Philippines 47 cathedrals, 29 basilicas and shrines took part in the red floodlighting campaign.