IRAQ: Persecuted youngsters to receive Christmas gifts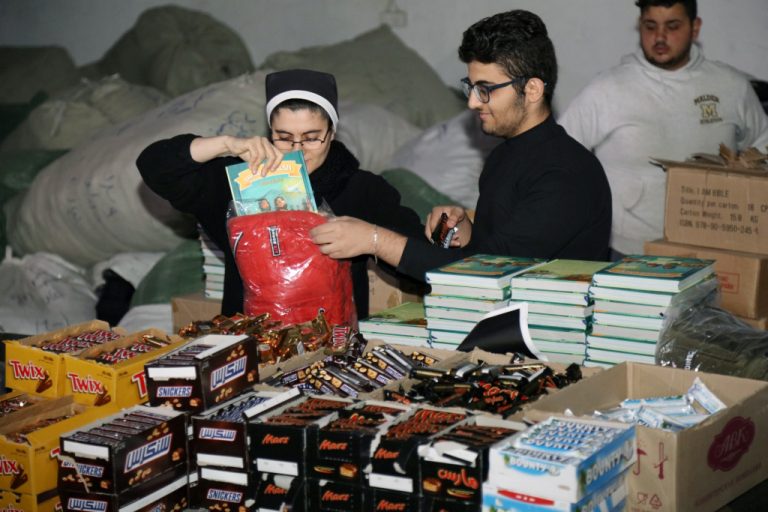 Youngsters in Iraq whose lives were turned upside down by Daesh (ISIS) will each receive a Christmas present – thanks to a leading Catholic charity.
Aid to the Church in Need will be distributing up to 15,000 parcels, not only  to displaced children in Erbil, the capital of Kurdish northern Iraq, but also to those who have been able to return to their homes on the Nineveh Plains following the defeat of the Islamist extremists.
The Christmas gifts – funded by an ACN grant of more than £260,000 – are being organised by Sister Ni'am Gamoura of the Daughters of Mary Immaculate and a team of parish volunteers from Erbil.
She said: "[Presents include] an anorak – something very necessary, because winter in this part of Iraq can be very cold and the temperatures often fall below zero – plus chocolates and, in order not to overlook the profoundly religious meaning of this feast, a Bible or another spiritual book in every parcel, depending on the age of the child concerned."
Sister Gamoura told ACN that the youngsters had written letters to Santa Claus, and their top three requests were, to have a stable home where they could live in peace, to continue attending school, and to have somewhere to play.
Over 6,330 families have returned to homes in Nineveh's Christian-majority towns and villages – but there are still thousands of families in Erbil waiting to go back.
ACN is working with local Church leaders to rebuild houses in the region.
Describing the coming Christmas, Sr Gamoura said: "It will be a joyful and a painful celebration at the same time.

"Joyful because of their return to their birthplaces and houses.

"And painful because of the state of the villages – destroyed, burned and looted houses – stolen, burned and destroyed churches – neglected streets, almost non-existent services, friends who [have] left the country."
Sr Gamoura thanked the charity's benefactors for their generosity, helping to provide children with: "Material gifts which carry with them the Good News of the presence of God among us and are stamped with the love of God the Father."
ACN is also supporting a Christmas parcel project for children in Aleppo, northern Syria, with a grant of more than £65,000, as well as providing more than £17,000 to help Syrian refugee families in Armenia.