IRAQ: Is time running out for the country's Christians?
• UK Parliament warned by Iraq aid coordinator that 1,800-year-old Church community is facing its biggest challenge yet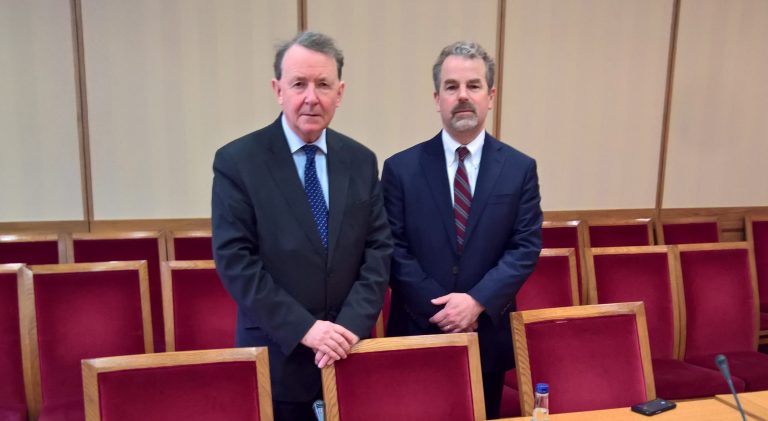 Iraq's oldest Christian community is at immediate risk of a sudden slide towards extinction unless multi-agency action is taken to safeguard their future –the co-ordinator of aid for displaced faithful forced from their ancestral homes by jihadi terror group Daesh (ISIS) told parliamentarians.
Amid continuing uncertainty over the return of at least 100,000 Christians displaced from the Nineveh Plains to Kurdish northern Iraq, Stephen Rasche told a meeting in the UK Houses of Parliament today (Thursday, 23rd March) that the faithful remained at risk of losing hope and seeking sanctuary abroad.
The event went ahead despite yesterday's attack on the Palace of Westminster. Prayers for those who died took place before the meeting.
Non-parliamentarians were unable to enter the building due to increased security – but Mr Rasche spoke to them at a briefing meeting at St John's, Smith Square afterwards.
With latest figures suggesting Iraq's Christian population has dwindled to as low as 150,000 – down from 1.5 million in March 2003 – Mr Rasche, Counsel and aid programme coordinator for the Chaldean Archdiocese of Erbil, told the House of Lords meeting that the loss of the community under his care would be a substantial blow for the survival of one of the world's oldest Churches, dating back to the second century AD if not before.
Mr Rasche praised Catholic charity Aid to the Church in Need which, according to official Archdiocese of Erbil figures, has given 46 percent of all aid to the displaced Christians, but warned that, with other agencies unable to keep up aid payments, the faithful were "45 days away from running out of medicine".
He stressed that all the support had come from Christian charities and that no UN funding had been received for the 12,000 families being cared for by the archdiocese.
Mr Rasche also highlighted the dismay of many displaced Christians still unable to return to the towns and villages in Nineveh more than four months on from the expulsion of Daesh.
He said: "In terms of finding a future for the displaced Christians we are looking after, we are running out of time. In fact, we are in extra time.
"The susceptibility of Christians to disappearance from Iraq is acute.
"Without an immediate infusion of aid, the programmes which have sustained the displaced Christians could collapse in the next 60 days after which they could disappear from the region within six to eight months.
"Right now, the future hangs in the balance as to whether we are entering a time of reconstruction and renewal or writing the final chapter.
"Today, we remain hopeful still for the future. In this past year, we have consecrated new churches in Erbil, ordained new priests and opened a university – the Catholic University in Erbil.
"These are obviously positive signs which we hope points to a new beginning rather than a tragic end but we nonetheless have to face the fact that the situation for the Christian community is very critical."
Working under the authority of Chaldean Archbishop Bashar Warda of Erbil, Mr Rasche has this week been holding meetings with UK Government officials, part of a series of discussions with Western governments aimed at finding a future for the faithful within Iraq.
With as many as 1,000 Christians now back in the Nineveh town of Telskuf following the ejection of Daesh, Mr Rasche highlighted the viability of a return of faithful to significant parts of the plain but added that still to be resolved were massive questions of long-term security and wholesale reconstruction.
Mr Rasche said that Telskuf and other some other parts of Nineveh were now under the military protection of Kurdish Peshmerga forces and as such were safe enough to prepare resettlement programmes.
But he added that other regions of Nineveh, most notably the town of Qaraqosh, formerly home to 40,000 Syriac Catholics and other Christians, were not yet safe because of widespread chaos and instability with Baghdad-based Iraq Government armed forces and various militia and political interests, all struggling to assert control.
Aid to the Church in Need is working closely with Mr Rasche, Archbishop Warda and other Church leaders on a "Right to Return" scheme, laying the groundwork for a partial – or substantial – resettlement of Iraqi Christians to their homelands.
Massive questions of security and budget-busting reconstruction schemes means ACN and other organisations committed to safe-guarding the future of Christianity in Iraq are seeking collaboration with new partners – both Government and NGOs – to prepare the way for the Nineveh resettlement.
He added: "At the same, we need to ensure that the humanitarian aid that has allowed us to hold the community together these past three years does not disappear in these critical next six months.
"Hopefully, we will find in the good hearts of the people of the UK and their government a new source of funding assistance to help us through this next stage of our long journey to stay home."