LEBANON: As soaring food prices hit Beirut blast victims, charity helps out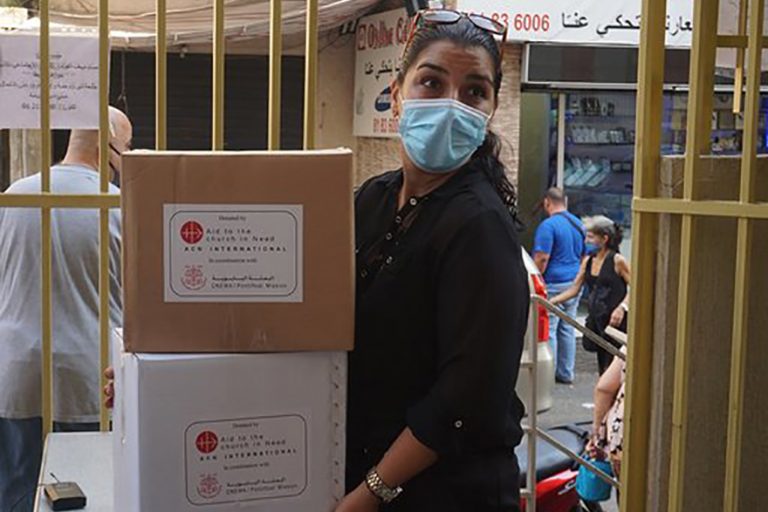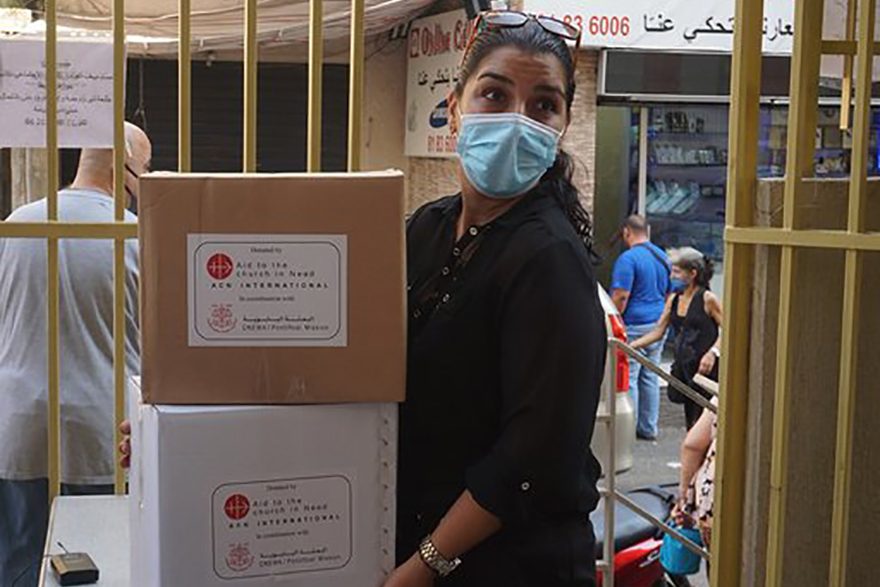 Lebanon's spiralling economic crisis is placing crippling burdens on those whose homes were destroyed or damaged in last month's blast in Beirut.
Sister Marie Justine el Osta, of the Maronite Sisters of the Holy Family, who is overseeing food distribution from the dispensary she directs in Beirut's Nabaa neighbourhood, told Catholic charity Aid to the Church in Need (ACN) that families are facing increasing poverty.
Sister Marie Justine said: "There are so many poor people in the Nabaa area, so many needs. After the blast, the needs are rising. 
"People are struggling to live day by day, and with each day everything is getting more expensive."
A total of 786 families are receiving food parcels from the dispensary in Nabaa, as part of an ACN-backed initiative which has seen 5,800 families getting food aid at several distribution centres in parts of Beirut affected by August's docklands explosion.
ACN is working closely with charities CNEWA and Caritas in Lebanon to deliver the aid as part of a co-ordinated campaign by the country's Catholic Churches.
Bassima, a 41-year-old mother of three, whose family is being helped by Nabaa dispensary, said her family has been "living on the edge", struggling to survive on her husband's earnings as a taxi driver.
She said: "Now I can barely feed my children".
In July, the cost of bread, which is subsidised by the government, shot up from 1,500 lira to 2,000 – the first price rise for eight years — and other groceries quickly followed, tripling or even quadrupling in price.
The purchasing power of the Lebanese lira has decreased by 80 percent since October 2019, and, with the country's gross debt having reached US$90 billion, more than half the population are now living below the poverty line.
Bassima told ACN: "If I were to go to the supermarket and purchase the least of these products, I would not have enough cash remaining to survive the rest of the month.
"I can hardly buy anything nowadays."
The ACN-backed food packages contains basics such as lentils, tinned goods and cooking oil.
Bassima added: "I am so thankful for this centre. The social worker and the Sisters are always here to listen to me and help me."
Sister Marie Justine expressed her gratitude to ACN for its support.
She said: "I thank God that he sent ACN to organise together to help us.
"It's a sign that the Church is close to our people in their suffering. I hope for more collaboration and projects to come."
An ACN project assessment and fact-finding team have just returned from Beirut and the charity is preparing a second wave of help following the emergency aid it sent last month.