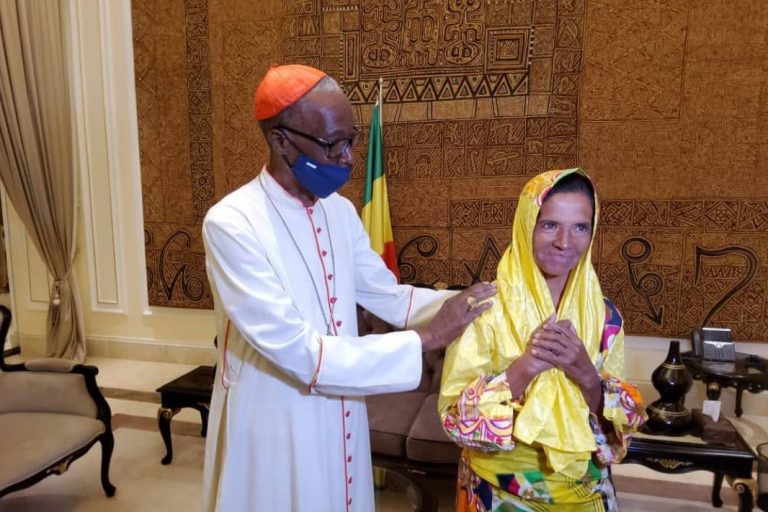 After more than four and a half years of captivity at the hands of Malian jihadist insurgents, Sister Gloria Cecilia Narváez Argoti, a missionary from Colombia, was freed on Saturday (9th October).
Monsignor Jonas Dembele, president of the Bishops' Conference of Mali, spoke to Catholic charity Aid to the Church in Need (ACN) about the release of Sister Gloria, who had been abducted on 7th February 2017.
He said: "This is a great day for the Church in Mali and for the universal Church, which has been praying for her. Despite the difficulties, God does not forsake his people, he blesses his people and the prayers of the Church helped sustain Sister Gloria.
"We are sure that she went through very difficult times, but nothing is impossible to God. We have organised thanksgiving Masses in the parishes and the dioceses, to thank God and to pray for the people of Mali and for peace in our country."
Following her release, Sister Gloria spoke to Malian television, expressing her gratitude to the state of Mali for securing her return, and for all those who prayed for her release.
Bishop Dembele said: "The liberation of Sister Gloria comes at a time when we pray for peace in the world.
"We are happy and we pray also for those who held her captive, for their conversion and we tell them that we want peace, nothing more than peace, and that Christians are interested in working for peace and development".
Bishop Mario Álvarez Gómez, head of the Colombian Bishops' Committee for Missions, also spoke to ACN, saying he was delighted with Sister Gloria's release.
He said: "We thank God for this moment, and congratulate the congregation and the Universal Church, and we especially thank the Holy See, the Apostolic Nunciature in Colombia and the Bishops' Conference.
"Glory to God for such a happy moment for the universal Church and for the Church in Colombia."
Dr Thomas Heine-Geldern, executive president of ACN, thanked all who have prayed for Sister Gloria's release.
He said: "At ACN we have always prayed especially hard for those who are unjustly detained.
"Sister Gloria was in the minds and hearts of our benefactors during all these years, but especially this past year, during Lent, and also during the Red Week for persecuted Christians as well in our campaign to free the captives.
"Her release, after four years of patient and faithful endurance, encourages us to keep praying for all those who are still hoping for freedom."