NIGERIA: Archbishop optimistic about new Nigerian president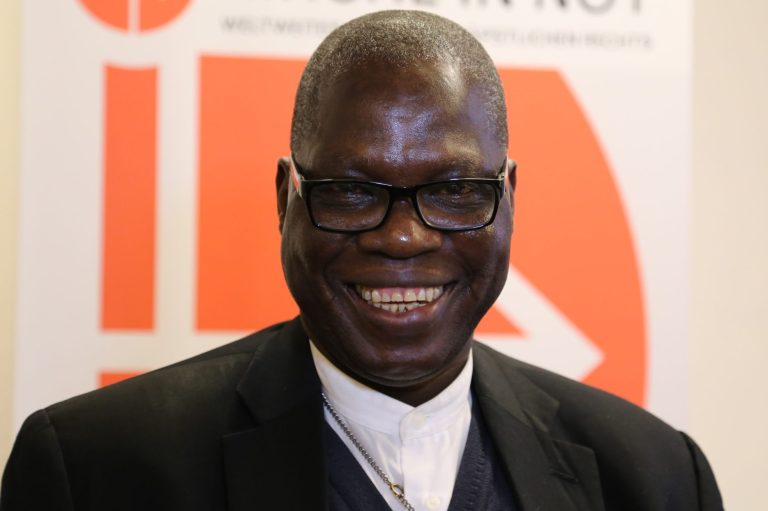 A senior Nigerian bishop has expressed hopes that the country's incoming president Bola Tinubu will promote inter-religious harmony.
Archbishop Matthew Man-Oso Ndagoso of Kaduna said that as Tinubu comes from a region where members of different faiths live side-by-side, Christians hope he will be an improvement on President Buhari, who has been accused of turning a blind eye to Islamist radicalism.
Archbishop Ndagoso told Aid to the Church in Need (ACN): "He is from Yorubaland, which has a significant population of Muslims.

"But in Yorubaland it is usual to find Catholics, Protestants and Muslims in the same family, and they get on well.

"Tinubu's wife is a practising Christian, so we are hopeful."
According to Nigeria's Independent National Electoral Commission, Tinubu received 8,794,726 votes in February's presidential election, putting him ahead of main challenger Atiku Abubakar who came second with 6,984,520.
Archbishop Ndagoso said: "He has been declared the winner, but the results have been challenged in court."
Concerns were voiced over the voting process, leading to the main opposition groups, Peoples Democratic Party and the Labour Party, disputing Tinubu's victory and calling for a fresh round of voting.
According to internal electoral observers led by Dr Joyce Banda, former President of Malawi, polling stations opened late and a new electronic system designed to make public the results from each polling area suffered severe delays.
Archbishop Ndagoso added: "However, if at the end of the day he wins in the court and is sworn in, given the part of the country he comes from, and his background, I think he will behave differently [to Buhari].
"We hope that he will be able to bring that kind of attitude into our polity, so that we can all enjoy that."
Archbishop Ndagoso stressed that it was possible for Christians and Muslims to co-exist together.
He said: "In every pastoral visit I make, especially to rural areas, I visit the Imam or other pastors. Our priests do the same."
Adding: "Ordinary Muslims and Christians go to the same market, their children attend school together, they live together – this is the dialogue of life."
Nigerians have also been to the polls to elect senators, members of the house of representatives and state governors, and the prelate also expressed hopes that the newly elected officials will take their responsibilities seriously.
Archbishop Ndagoso said: "We hope these new leaders will treat everybody fairly and justly, so that it doesn't matter who you are, you should be treated as any other citizen.
"We are not making any special demand, just to be treated justly, fairly and with equity. At the moment this is lacking.
"We are hoping this election will produce leaders who have the common good of everybody at heart. That is the minimum we expect."
Highlighting attacks on the Church and others in Nigeria by Islamist extremists, Archbishop Matthew Ndagoso thanked ACN for its ongoing support.
He said: "ACN has been here for us. When our churches are burned, our convents destroyed, we as pastors, stand there and think about how we are going to rebuild, and help the people who are displaced.
"With ACN we know that we are not alone, they are praying with us and they stand with us. They are always there. To know that there are people all over the world sharing in your suffering, really gives us the strength, courage and energy to put up with our trials.
"We cannot thank ACN enough."
Thanks to Filipe d'Avillez