NIGERIA: Killed for teaching kidnapper the 'Our Father'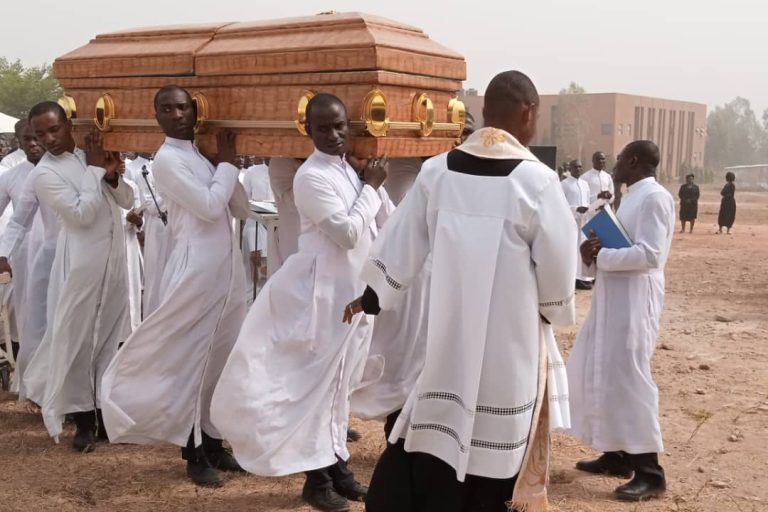 Two Catholic students seized from a seminary in north-west Nigeria have opened up about the events that led to the martyrdom of one of their classmates.
Pius Tabat and Stephen Amos were abducted from the Good Shepherd Seminary in Kaduna along with Peter Umenukor, and Michael Nnadi who was murdered by their captors.
Speaking at an online conference organised by Catholic charity Aid to the Church in Need (ACN), the two men described being awoken by gunshots when their kidnappers raided the seminary complex on the night of 8th January 2020.
Mr Tabat said: "When we reached the door, a gun was pointed at our heads. The gunman took our phones, gadgets and valuables and asked us to go out.

"They took us over the fence and moved us from the site so that we would not be seen by the security forces. We went into the bush that very night."
The group of four seminarians were made to walk for three to four hours before being told to climb onto the backs of motorcycles for the remainder of their journey.
The seminary student continued: "They called us later to communicate with our parents, to inform them we had been kidnapped. They beat us during those phone calls.
"We were crying with the tension, while our parents listened over the phone. This routine continued for about two weeks. Every time we made the call, they beat us."
They were relentlessly beaten by their captors "every day, with no pity". In the evening they were told to sing Christian songs and chants while their abductors continued to strike them.
"One of our brothers [Peter Umenukor] fell very ill, almost at the point of death. They took him and left him by the wayside, and told somebody to go and pick him up. Fortunately, he survived."
Eighteen-year-old Michael Nnadi was murdered, according to his killer Mustapha Mohammed, for preaching the Gospel. Gang leader Mohammed was eventually arrested in late April 2020.
Mr Tabat said: "During those days one of the kidnappers started asking questions, and Michael tried to explain our Christian faith to him. It got to a point where he asked to be taught the 'Our Father', and Michael taught him.
"It may have gotten out that this is what was happening, or the boy himself told them. We were sitting there blindfolded and they came and fetched him…
"Later that night, the leader of the gang told us that they had killed our brother, and that if they were not paid by the following morning, they would kill us as well. That was one of the longest nights of our life.

"In the morning they called us and gave us our cell phones to call our parents to say goodbye before they killed us. We did so and went back to our tents, leaving our lives in God's hands. But we were not killed that day."
Three days later they were finally released. "We do not believe it is a coincidence that we were released four days after he was killed. It was like his blood set us free, he paid the price for our freedom."
The seminarian added "[H]e was martyred in cold blood, his only crime was being a Christian and a Catholic seminarian."
Pius Tabat and Stephen Amos believe that the attack on the seminary may have been prompted by their kidnappers' hostility towards the students' Faith.
Mr Tabat said: "Our kidnappers were Fulani herdsmen, they spoke the Fulani language. We cannot say what their motive was, but the people we met in captivity were mostly Christians, so it is not out of place to say it is mostly an attack on our Christian Faith.
"Muslim places of worship or leaders are never attacked in our area, so it seems that we were targeted for our Catholic Faith."
With thanks to Filipe d'Avillez