PHILIPPINES: #RedWednesday set to be official date in Church calendar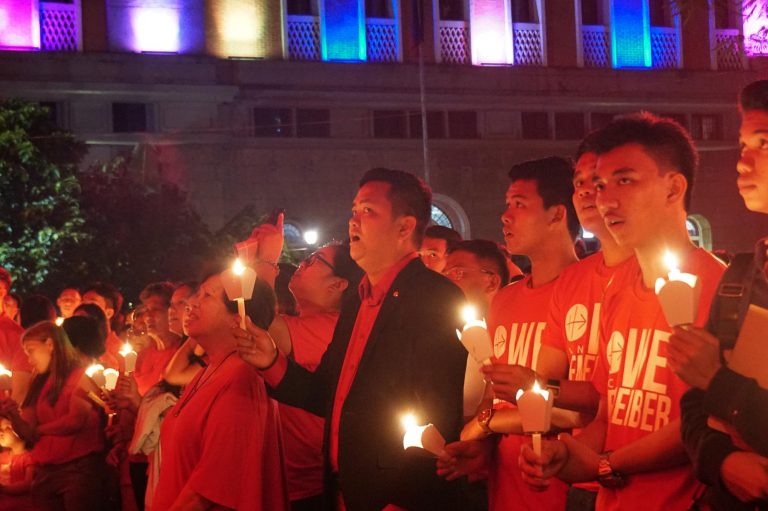 Catholics across the Philippines have received an official request from their bishops to mark #RedWednesday, after the initiative by Aid to the Church in Need (ACN) received the rubber stamp to become part of the Church's calendar.
The Catholic Bishops' Conference of the Philippines (CBCP) decided that the local Church will officially mark #RedWednesday, the Catholic charity's campaign for religious freedom, with public buildings lit red to raise awareness of persecuted Christians.
The bishops decided it would fall on the Wednesday following the Solemnity of Christ the King, which comes at the end of November.
On #RedWednesday, which this year is on 25th November, priests will wear red vestments at Mass and the liturgy will centre on persecuted Christians, with intercessory prayers created for the occasion.
ACN and the episcopal conference will release an official prayer. Exhibitions, conferences and other discussion forums and will be arranged, endorsed by the CBCP.
Promoting the cause to make #RedWednesday part of the Church's calendar, Jonathan Luciano, National Director of ACN (Philippines), made a presentation to more than 90 bishops.
He told them that increasing levels of Christian persecution necessitated official observance of #RedWednesday.
Mr Luciano said: "The persecution of Christians in the Philippines has escalated.
"There were political tirades against the Church and her leaders beginning in 2016, the Marawi siege in 2017, and the cathedral bombing of Jolo in 2019."
The bishops' decision to make #RedWednesday an official date in the Church calendar was unanimous and Mr Luciano said persecuted Christians across the globe would benefit from the increased prayer and raised awareness.
He said: "This is a resounding success not just for ACN but for all the persecuted Christians around the world.
"We would like to express our utmost gratitude to all the bishops of the Philippines."
He added: "The overwhelming support makes the Philippines the first country to do this. We will do this, and we will continue to do this for every Christian in need."
The Philippines has the third highest population of Catholics in the world with more than 83 million.
On 27th January 2019 two bombs exploded during Sunday Mass in the Cathedral of Our Lady of Mount Carmel, Jolo, killing at least 22 people and wounding more than 100 others, an attack claimed by Daesh (ISIS) affiliate Abu Sayyaf.
In ACN's latest Persecuted and Forgotten? report, the Philippines was one of the 12 worst offending countries featured, showing a decline in religious freedom for Christians over the course of 2017 to 2019.