SCOTLAND: Students rally in support of suffering Christians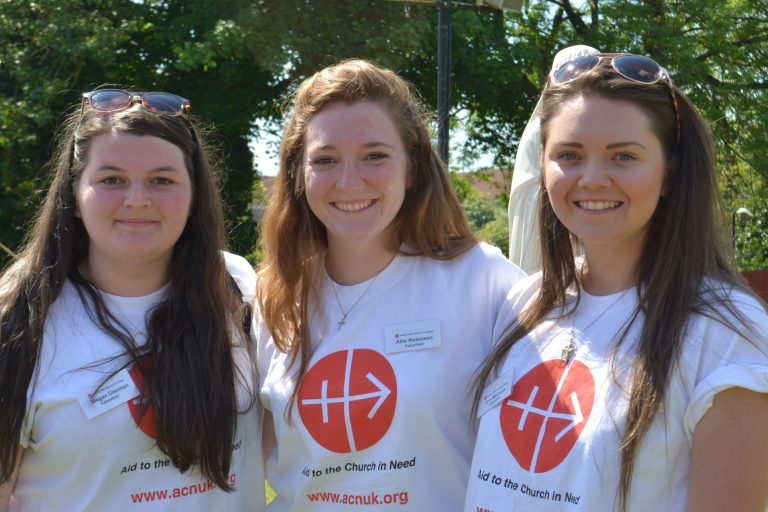 One thousand secondary school pupils from Scotland came together in prayer and solidarity with persecuted Christians at a rally organised by Catholic charity Aid to the Church in Need.
Leading yesterday's (Thursday, 1st June) third ACN annual Youth Rally at Carfin Lourdes Grotto was Catholic Bishop John Keenan of Paisley.
Joining him was Father Martin Delaney, Youth Co-ordinator for Motherwell Diocese.
Providing personal testimonies and performances were electropop Christian band Ooberfuse and former comedian Father Frankie Mulgrew, son of Jimmy Cricket.
The theme of the day was #WeAreOne and the Scottish youth were encouraged to stand in solidarity with our brothers and sisters in Christ who are persecuted for their faith.
The day included prayer, music, a dramatic reading and social media activity.
Each school was asked to compose a prayer for Syria and another for Iraq to be given to bishops in both countries to share with their communities.
Bishop Keenan, a member of ACN's advisory board in Scotland, highlighted the need for local Christians to do more to support the charity, adding: "We can't be saying that just because people live far away they are not our brothers and sisters.
"They are our brothers and sisters. They are maybe only five hours away by plane and should have the same rights and merits that we do which they don't really have."
He added: "We can do something about it by giving them material aid to rebuild their communities, their churches, their homes, their seminaries and schools.
"We can also do something about it by raising awareness about what is going on and looking for political action.
"We can do something about it by praying as well.
"I think [the rally] is the biggest Faith youth gathering we have had in our country this year and it was great to see so many youngsters."
"I was proud of them because when it came to the talks they listened, when it came to the jokes they laughed, when it came to the Adoration of the Blessed Sacrament they prayed, and when it came to action they gave."
Bishop Joseph Toal of Motherwell, who also attended the rally, said: "It was nice to come along to this event and hear what was being said and be a part of it."
"The suffering of Christians today fits in well with Christ's suffering. It should be an inspiration to us that we don't have to go through the same pain and suffering [experienced by] other Christians.
"It was nice to see so many youngsters here on the day; they need to realise that there is a lot of pain and suffering in the world.
"Sometimes it can be far away from us but sometimes it can be very close to us, as happened in Manchester recently.
"We need to support these people and be with them in some way.
"We need to keep them in our prayers and try to understand their pain and suffering."
Lorraine McMahon, ACN Head of Operations in Scotland, said: "The message of the day was that #WeAreOne, we are one in the family of Christ no matter where in the world we live."