SYRIA: Fearful families seeking shelter as aftershock shakes Aleppo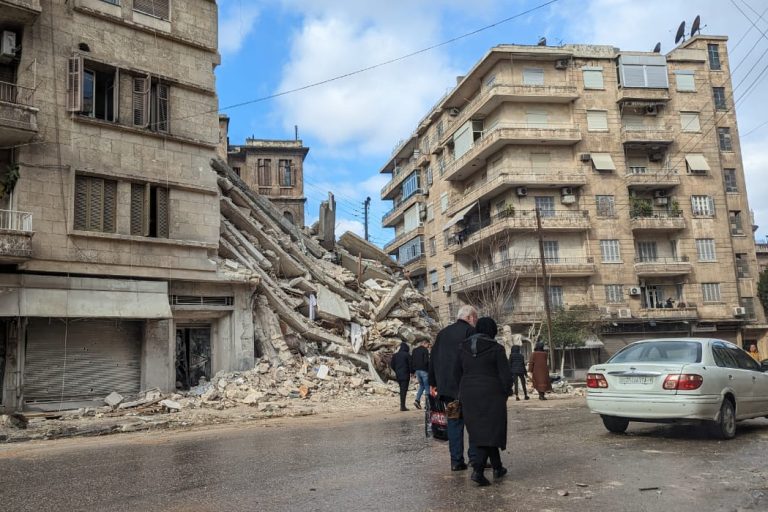 People in northern Syria who have lost their homes in the earthquake are being offered shelter in churches, convents and hospitals, as the region reels from a catastrophe that has devastated the region.
Project partners of Catholic charity Aid to the Church in Need (ACN) in the quake-hit city of Aleppo described how those affected by the disaster are receiving sanctuary in Church buildings.
Carmelite Sister Arlene told ACN that her cloistered community has opened its doors to those in need.
She said: "The families are afraid and they do not want to return to their houses, they are looking for a place to spend the night.

"We have had five families come to us, and we are sheltering them. Other families are going to the schools or churches."
Sister Anne Marie Gagnon, director of Aleppo's St Louis' Catholic Hospital, echoed Sister Arlene's words, saying families are turning to the Church as they have nowhere else to go.
She said: "People are now asking at the churches and convents, and with us at the hospital, if they can stay there until the crisis passes.
"Many buildings have fissures in them, and the people who are on the fourth or the fifth floor, are afraid to stay there.
"We have put some mattresses on the ground for our personnel so they can stay here."
Adding: "There are also some families who have asked to stay here overnight."
Highlighting that "in Aleppo, many apartment buildings have fallen", she told ACN that there are fears that structural damage may have made the hospital unsafe.
Sister Anne Marie said: "At our hospital, there is a part that looks as though it may fall, the stones have moved and we are afraid they will give out.
But she stressed that they are prioritising providing free care for the injured: "We have operated just now on two people with injuries.
"We have a Christian family in the hospital whose family members have died in the earthquake. We are now awaiting the arrival of the priest who died, Father Daher."
Father Emad Daher was one of two priests buried alive when a Melkite Greek-Catholic building collapsed. Archbishop Emeritus Jean-Clement Jeanbart narrowly escaped death when it fell.
The earthquake death toll for Turkey and Syria combined has now topped 5,000.
ACN is exploring ways to help the local Church respond to the crisis.
With thanks to Filipe d'Avillez, Xavier Bisits and Amer Jabbour