SYRIA: From prisoner of jihadists… to archbishop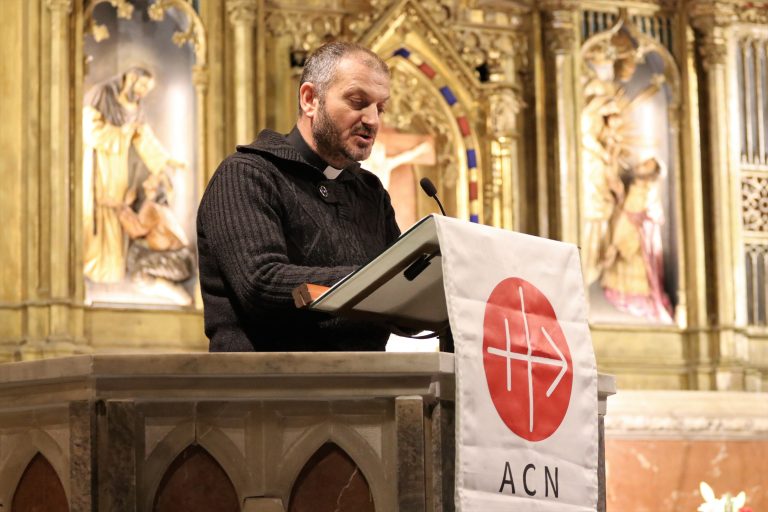 The appointment of a priest who was a prisoner of Daesh (ISIS) as an archbishop in Syria has been warmly welcomed by a Catholic charity which worked closely with him for many years.
Aid to the Church in Need (ACN) expressed its delight that Father Jacques Mourad, who was held captive by Daesh for almost five months in 2015, has been elected Syriac Catholic Archbishop of Homs by a synod of the Church's bishops.
The Syriac Catholic Church, which has almost 200,000 faithful, is one of the 23 Eastern Catholic Churches in full communion with Pope Francis.
John Pontifex, ACN (UK) Head of Press and Information, who met Archbishop-elect Mourad on one of his project trips to Syria praised the choice.
He said: "ACN is delighted that Father Jacques has been appointed Archbishop of Homs.

"He is a man of deep spirituality, who wanted to both rekindle the region's ancient Christian monasticism and build bridges with the Muslim communities.

"His incredible witness will help to bring healing and reconciliation to Homs which, as I saw for myself, was smashed to smithereens by the civil war."
Father Jacques Mourad was head of Mar Elian Monastery when the region was overrun by rebel militia groups in 2015. The monastery tended to hundreds of IDPs forced to flee the fighting.
ACN backed a number of projects run from the historic monastery, which was founded in the fifth century AD, including the provision of essential aid such as food and medicine.
Father Mourad acted as a mediator with the rebels on behalf of the civilian population in the nearby town of Qaryatayn.
But in May 2015 he was abducted from Mar Elian Monastery – which Daesh destroyed four months later – and taken to Raqqa, Daesh's stronghold in the country.
Speaking to ACN in his first public interview after his release, he said: "The jihadists frequently insulted us, but the most difficult moment was when they tried to intimidate us – 'Either you convert to Islam or we cut off your head'."
Because he refused to convert, the extremists carried out a mock execution.
Later he would be returned to Qaryatayn, which was now under jihadist control, and there managed to escape with the aid of a Muslim friend, who later helped him free other Christian captives.
Regina Lynch, Head of Projects at ACN's International headquarters, said: "During his ordeal Father Jacques remained a solid example of Christian values, supporting his faithful and bearing witness to those who persecuted them.
"As a bishop he is in a great position to continue to encourage Christians to remain in their homelands and be true to their beliefs, but also to engage in dialogue with Muslims, working towards peaceful coexistence."
Archbishop-elect Jacques Mourad was born in Aleppo, Syria in 1968 and ordained priest in 1993.
He undertook seminary studies in Lebanon, and holds degrees in Philosophy, Theology and Liturgy.
Thanks to Filipe d'Avillez