SYRIA: Green light to rebuild quake-hit houses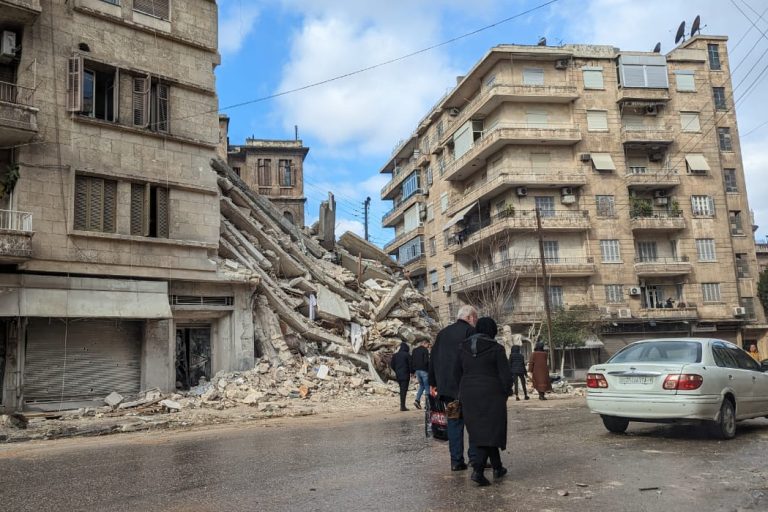 Churches in Syria are pressing ahead with projects to repair homes hit by last month's devastating earthquakes that killed more than 50,000.
 And Catholic charity Aid to the Church in Need (ACN) has committed to providing more than US$550,000 (£460,000) in aid to help Christians return to their flats and houses, and support families with rent for temporary accommodation in the meantime.
Xavier Bisits, ACN head of projects for Syria, stressed that, with the country still recovering from the war and 90 percent of people in in the country living below the poverty line, this help was absolutely vital for Christian families.
He said: "The Church is often the only source of help for Christians who say they are not helped by the UN or other international NGOs."
He added that in the meantime the Churches are continuing their support for those with nowhere else to go.
He said: "There are still at least a thousand people in Church-run shelters and in parish halls, but that number is going down as they're moving in with relatives, or engineers have visited their homes and declared them to be safe".
The ecumenical Joint Committee of Christian Churches in Lattakia – consisting of Greek Orthodox, Syriac Orthodox, Armenian Apostolic and Presbyterians are well as the Catholic Churches – will receive US$250,000 from ACN to restore more than 250 homes damaged by the natural disaster.
More than 100 buildings collapsed in Lattakia Governorate following the 6th February quake, and it is estimated that the number of buildings which suffered damage of some sort exceeds 17,500.
In order to help the 800 Christian families affected directly by the earthquake, the Churches have divided the damaged houses into three categories:
Homes requiring major repairs – almost all the families in this group are living in shelters or temporary accommodation.
Homes needing significant renovation.
Homes which are structurally sound, but need minor repairs or renovation.
ACN help is going to flats and houses in the first two groups.
Mr Bisits stressed that these would not be buildings which had collapsed, but "buildings which have had enough damage that it either impedes usage, or the government engineers have said it's not safe to return".
In Aleppo, where Churches also opened their doors to those made homeless by the earthquake, a similar scheme is in place.
Under the auspices of the Aleppo Bishops' Council, an advisory committee of specialist engineers has been set up, which is responsible for assessing all damaged houses to help survivors return.
Mr Bisits said he was "impressed by the way the Churches are working together to be good stewards of the funds."
He added that rebuilding homes was an unusual project for ACN to support, but that the needs of the local community made it an urgent necessity.
He said: "The situation of Christians in the Middle East is so difficult, especially given the scale of emigration with have seen.
"Christianity dies if they leave, so in a situation of great need, like this one, it is important to provide practical help – as well as continuing to support pastoral and spiritual projects."