UK/INTERNATIONAL: Commonwealth head receives report on persecuted Christians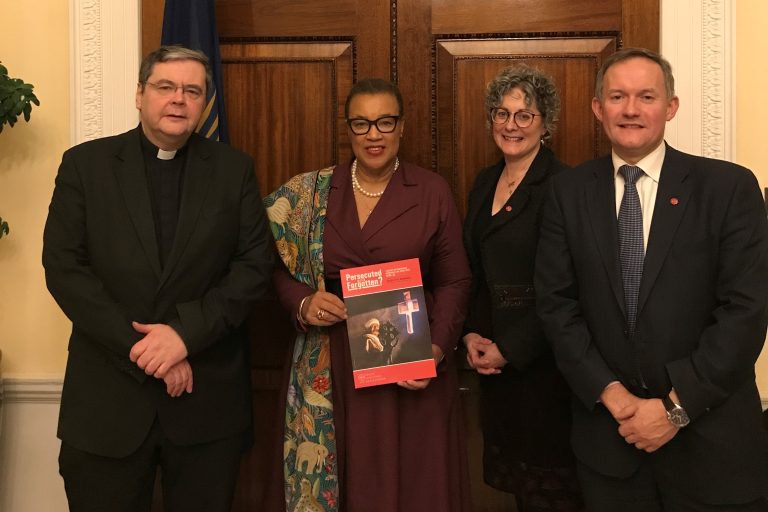 THE Secretary-General of the Commonwealth of Nations was presented with a copy of a leading Catholic charity's latest report on persecuted Christians at a meeting yesterday (Thursday, 15th December) in central London.
Baroness Patricia Scotland of Asthal received Persecuted and Forgotten? A Report on Christians oppressed for their Faith 2020-22 at Marlborough House, the seat of the Commonwealth's Secretariat.
The report was presented by Dr Caroline Hull, National Director, Aid to the Church in Need (UK), alongside the charity's UK National Ecclesiastical Assistant (chaplain) Father Dominic Robinson and John Pontifex, ACN (UK) Head of Press and Information, an author of Persecuted and Forgotten?.
Launched last month, ahead of #RedWednesday – ACN's campaign for suffering Christians – Persecuted and Forgotten? 2022 found that over a two-year period the situation for believers had declined in 75 percent of countries surveyed in the report.
These include China, Eritrea, India, North Korea, Pakistan and all six African countries covered in the report, such as Eritrea, Mozambique and Nigeria.
Before hearing a summary of the report's findings, Baroness Scotland provided an introduction to the Commonwealth, which is a voluntary association of more than 50 sovereign states committed to the cause of greater international understanding and world peace. 
Speaking after the meeting, Dr Hull said: "It was an honour to present Baroness Scotland with our new Persecuted & Forgotten? report.
"At ACN, we will continue to work tirelessly to raise awareness of the plight of suffering and persecuted Christians in countries where their voices often aren't being heard."
Last week, ACN (UK) senior representatives gave an overview of Persecuted and Forgotten? to King Charles III at an Advent meeting held in central London, where they introduced him to witnesses of persecution.