UK/INTERNATIONAL: #RedWednesday shines a light on the need to help suffering Christians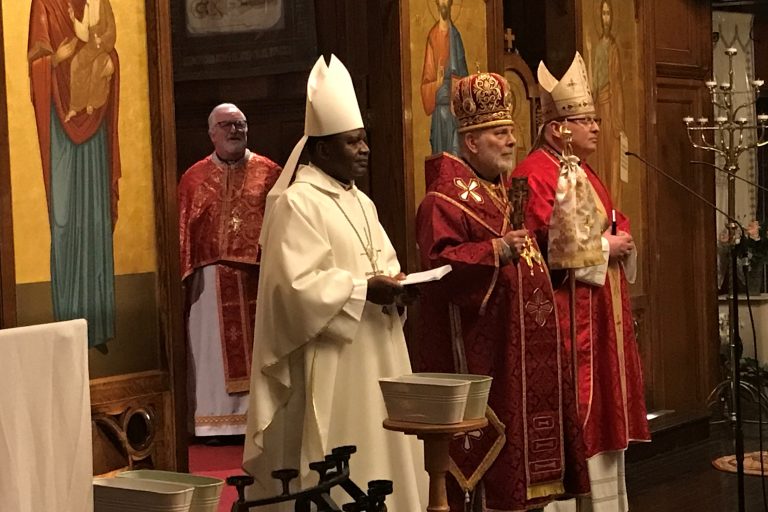 PARLIAMENTARIANS, bishops, priests, students, young professionals, benefactors and other friends of ACN as well as volunteers, young and old representing numerous nationalities all marked #RedWednesday 2022 yesterday (23rd November) in style. 
More than 200 people attended the #RedWednesday evening event at the Ukrainian Catholic Cathedral of the Holy Family in London's Mayfair district.
Earlier in the day, more than 25 MPs including Fiona Bruce, the Prime Minister's Special Envoy for Freedom of Religion or Belief, stood in solidarity with Bishop Jude Arogundade of Ondo, Nigeria.
It was in his diocese that Islamic State West Africa Province militants claimed responsibility for an attack on St Francis Xavier's Church in Owo where 41 died and 78 were injured during Pentecost Sunday Mass.
Meeting the MPs at Westminster Hall in the Houses of Parliament, Bishop Arogundade thanked them for their sympathy with the plight of persecuted Nigerian Christians, and asked for their help to encourage the UK Government to alleviate the situation. 
All this week, around the world buildings lit up red to highlight the witness of the martyrs to their faith in Christ, such as those in Nigeria.
Among the buildings to go red in London was the Foreign, Commonwealth and Development Office in Whitehall.
Outside the Ukrainian Catholic Cathedral, which was also bathed in red, a large crowd gathered to pray the first decade of the sorrowful mysteries of the Rosary.
The crowd then packed into the cathedral for the Divine Liturgy in the Byzantine Rite.
Presiding was Bishop Kenneth Nowakowski, Apostolic Eparch of the Ukrainian Catholic Eparchy, and concelebrants included Archbishop John Wilson of Southwark and Bishop Arogundade.
In talks that followed Bishop Arogundade gave testimony about the Owo atrocity and ACN's John Pontifex explained the findings from ACN's latest research Persecuted and Forgotten? A Report on Christians oppressed for their Faith 2020-22 launched in Parliament last week.  
Meanwhile, a Scottish #RedWednesday digital webinar took place sponsored by Clare Adamson MSP, and ACN's Dr John Newton presented the report's findings.
Afterwards, Dr Caroline Hull, ACN (UK) National Director, said: "The support across the UK – and globally – for #RedWednesday 2022 shows just how much the plight of those who suffer for their faith speaks to people everywhere.
"For Christians and those of minority faith groups not to be able openly to express their religious beliefs is wrong; no one should live in fear simply for adhering to a faith different from the beliefs of those in power."
To order a copy of Persecuted and Forgotten? A Report on Christians oppressed for their Faith 2020-22 visit www.acnuk.org/orderpf22  
To sign the ACN (UK) #RedWednesday petition calling on the UK Government to demand the Nigerian authorities bring to justice those responsible for attacks on Christians and others, visit: www.acnuk.org/petition-2022