UK: London shrine honours persecuted Christians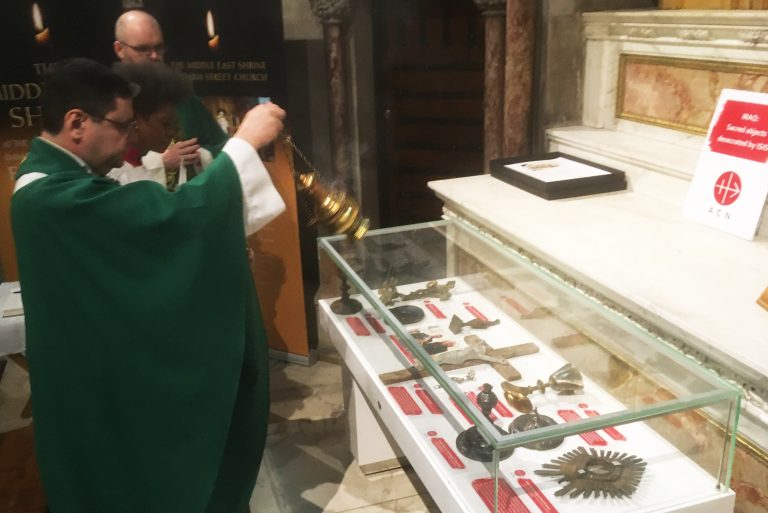 A shrine has opened in London displaying sacred liturgical items desecrated by extremists in Iraq.
The 10 objects – including chalices, crucifixes and a statue – many of them bent and broken, were formally blessed at a ceremony yesterday (Sunday, 3rd November), at Farm Street Catholic Church, where the shrine has been erected.
The sacred items were taken from churches torched and desecrated during the Daesh (ISIS) occupation of Iraq's Nineveh Plains – an invasion which forced the expulsion of Christian families who had been living there for thousands of years.
An appeal to stand in solidarity with persecuted Christians was made by Farm Street parish priest Father Dominic Robinson SJ, who presided at the opening of the temporary shrine.
Father Robinson is chaplain for Catholic charity Aid to the Church in Need (UK), which helped coordinate the initiative as part of its work repairing homes, churches and other structures for Christians returning to Nineveh following the military defeat of Daesh.
Father Robinson said: "I hope very much that the visit of these desecrated sacred items contributes to our sense of communion with our brothers and sisters struggling to practise their faith and shows us the power of hope through the Cross."
The temporary display has been made possible by Iraq's Chaldean Archdiocese of Erbil, which gave permission for the loan of the items.
As part of the shrine blessing talks on the ACN's work were given by John Ravi and John Pontifex.
The charity is continuing to prioritise help for Christians in Iraq and Syria