UK-Middle East: Feet of endurance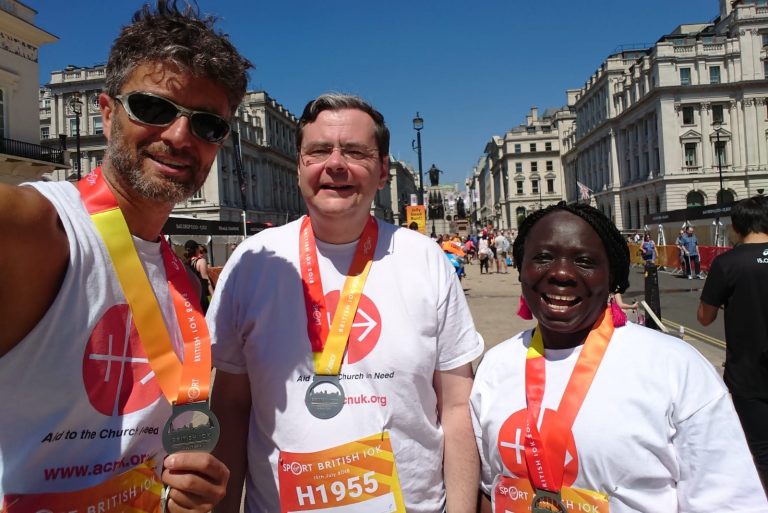 ACN runners survive the heat in British 10K
A team of runners supporting Catholic charity Aid to the Church in Need were undeterred by London's heatwave when they took part in the British 10K London run to raise money to help people suffering persecution and acute poverty in Syria and Iraq.
The five-strong group braved temperatures that were set to peak at nearly 30C as they set off through the streets of the UK capital yesterday (Sunday, 15th July), alongside more than 10,000 people who also took part in the run.
The ACN team were raising money for the charity's projects in Syria and Iraq which include emergency aid – food, shelter, medicine and schooling – as well as repairs to homes and churches, besides pastoral work, such as support for priests and religious Sisters and Christian education.
"ACN initiatives make a difference to people's lives and… live lives of faith in freedom." 
The charity's team of runners was led by ACN UK Chaplain Father Dominic Robinson who said afterwards: "Running in those kinds of temperatures is not my idea of fun.
"On an average Sunday morning, I am usually serving the congregation at my church in central London.
"But having the opportunity to respond to the challenge left me feeling close to the people who we, at ACN, serve in Iraq and Syria who do not have the freedoms that we enjoy.
"Through the wonderful work of Aid to the Church in Need, I really hope that initiatives of this kind can make a difference to people's lives and enable them to return to their homes and live lives of faith in freedom." 
Fellow runner Sebastian Cichocki, who works with Father Robinson at Farm Street Catholic Church, said afterwards: "Yes, in that heat we suffered a bit but that suffering was nothing compared to what people in Syria and Iraq have been through."
"I was very proud to wear the ACN T-shirt doing the run. I totally support what ACN is doing."
It is not too late to sponsor the ACN team. Please visit https://www.justgiving.com/fundraising/team-acn10k