UK/NIGERIA: Bishop tells UK parliament prayer will conquer jihadism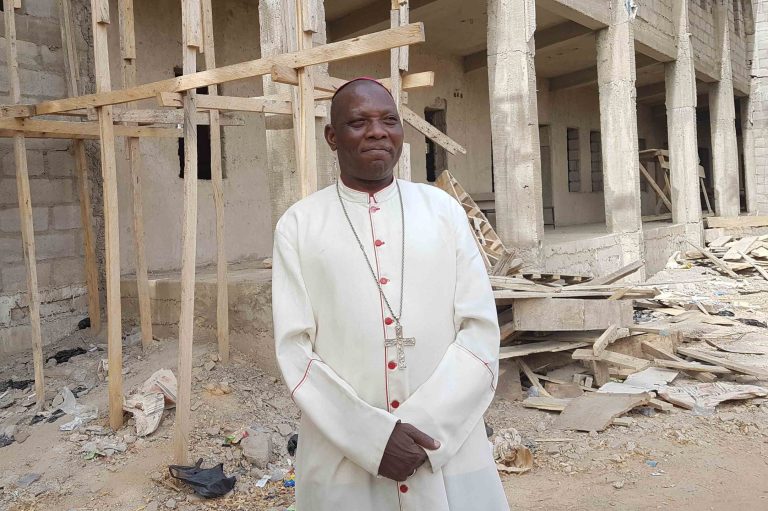 A Nigerian bishop who addressed a meeting in the UK Houses of Parliament today (24th October) said prayer has the power to defeat jihadist groups in Africa.
Bishop Oliver Dashe Doeme, who was speaking at the launch of Catholic charity Aid to the Church in Need's Religious Freedom in the World: Africa Update, told MPs and peers that prayer has turned the tide in the battle against extremism in his diocese of Maiduguri.
He said: "The biggest source of hope, the greatest weapon we have against groups like Boko Haram, is prayer. Prayer has turned the tide against the terrorists in the north-east of Nigeria.
"In my diocese, we started a Rosary campaign in 2013 and since then, thousands of terrorists have surrendered their weapons. Many displaced people have returned home and the situation has improved.

"It is only through prayer that we will win the war we are fighting. Our fight is, first and foremost, a spiritual battle."
He added: "Through our collective prayer and action, we can make a difference to millions of suffering and persecuted Christians."
Bishop Dashe Doeme also urged UK politicians to call on the Nigerian government to take more steps to tackle extremism and its impact throughout the country, including providing support to those displaced by terrorist activity.
He asked politicians to encourage Nigeria "to allow independent bodies to investigate claims of atrocities in the country, sanctioning those responsible".
ACN's Religious Freedom in the World: Africa Update highlighted "an explosion of violence inflicted on military and civilian populations" in sub-Saharan Africa by jihadist groups.
Citing a 2023 study by the Africa Center for Strategic Studies, violence perpetrated by militant Islamists in the Sahel and Somalia "accounted for 77 percent of the total reported violent events across Africa in 2022" – with civilian deaths rising from 4,307 in 2021 to 7,220 in 2022.
According to the report, extremism has led to a 57 percent increase in violent attacks and a 70 percent jump in fatalities in north-west Nigeria, as well as in Chad and Niger.
Also speaking at the event, chaired by Baroness Caroline Cox were Jim Shannon MP, the chair of the All-Party Parliamentary Group International Freedom of Religion or Belief – who echoed the bishops call for prayer for Africa – and Fiona Bruce MP, the Prime Minister's Special Envoy for Freedom of Religion or Belief.
The parliamentary event was part of a series of events signalling the start of the run up to ACN's annual #RedWednesday on 22nd November.
It followed Bishop Dashe Doeme leading a Rosary meeting last Sunday (22nd October), which launched the series of preparatory events. Over the next month ACN is encouraging Catholics to pray 100,000 decades of the Rosary for suffering Christians in Africa.