UKRAINE: Bishop travelling 30,000 miles to help the faithful amid war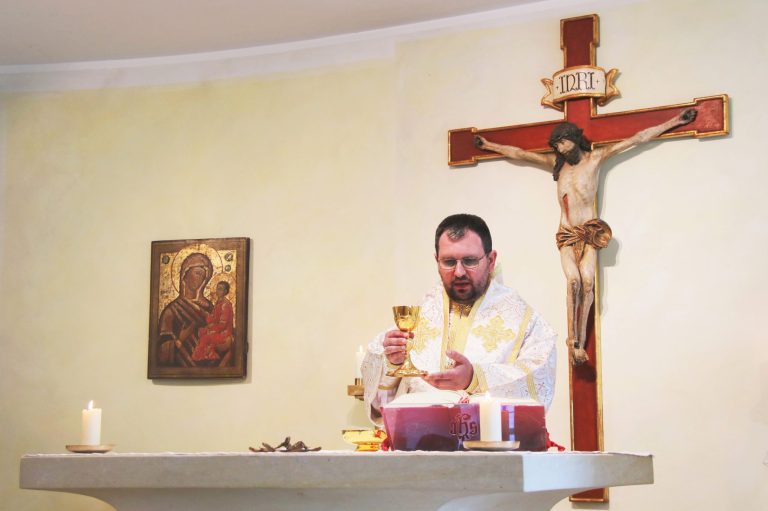 A Ukrainian bishop has travelled more than 30,000 miles (50,000 km) in seven months to offer pastoral care and other help to Christians on the frontline.
Bishop Maksym Ryabukha, Auxiliary Bishop of Donetsk, told Catholic charity Aid to the Church in Need (ACN) about the extreme challenges of ministering in a war zone.
The Salesian bishop said that, since his episcopal ordination last December, a car provided by ACN had enabled him to visit the people entrusted to him and offer them much-needed "material help and spiritual strength".
A large part of the Ukrainian Greek Catholic Archepiscopal Exarchate of Donetsk is inaccessible because of occupying forces and is frequently under bombardment.
Bishop Ryabukha said that clergy were forced to leave the invaded territories at the outbreak of the war and "today there is not a single priest of the Exarchate there".
He added that, thanks to ACN's provision of Mass stipends to the priests of the Exarchate, Catholics in the area can participate in the Mass via social media livestreams.
He explained that the support offered by ACN has meant that "the Church in Ukraine is becoming a meeting place for people of more than one nation.
"This highlights the essence of being together – friendship does not mean the same way of thinking or seeing things, but to be a friend is to live together, allowing the other person to be themselves, with their own culture, history and beliefs."
The bishop said that the Church is supporting suffering communities by establishing "social centres for children, families and the elderly where people of different denominations [can come together].
"In times of war, one does not think in what form God is believed to be; it is a time to pray together and to be together in fellowship."
He said that before becoming a bishop he had dedicated his ministry to educating young people and that he wanted others to follow their example of resilience.
He explained: "Young people do not stop dreaming and do not give in to fatigue, and this is an inspiration for us."
Since the beginning of the war in February 2022, ACN has supported Ukraine's Catholic Churches with 353 projects totalling more than £8.5 million (€10 million).
With thanks to Mykolas Sotnicenka