UKRAINE: Bishops thank ACN for aid on war's first anniversary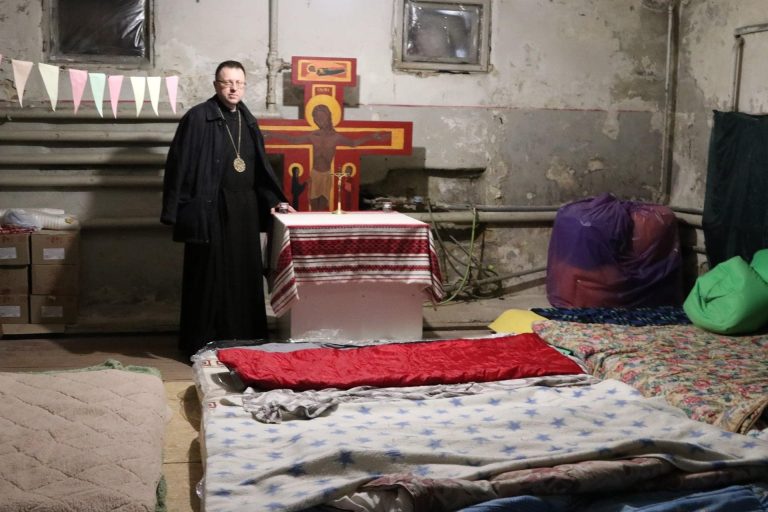 On the first anniversary of the war in Ukraine, bishops in the country have expressed their gratitude for the help provided by a leading Catholic charity over the last 12 months.
Aid to the Church in Need (ACN) has supported 292 vital projects in Ukraine costing nearly £8.5 million since the Russian offensive started on 24th February 2022.
Ukrainian bishops have thanked ACN in messages marking the first anniversary of the war, which come as UK Prime Minister Rishi Sunak today leads a minute's silence for Ukraine.
Auxiliary Bishop Jan Sobiło of Kharkiv-Zaporizhia told ACN: "God bless you all for your aid and donations, so that we have something to share with others. May God reward you."
Stressing his thanks to ACN for its help since the war began, Auxiliary Bishop Volodymyr Hrutsa of Lviv, said: "It has been a year since this more serious phase of the war began in Ukraine. I thank God for this year.
"It may seem incomprehensible, at first. How can I be grateful for a year of war? This year has produced so many victims, so many needs. And, no less important, the war has caused such an upheaval of the world order."
But he added: "According to many experts, Ukraine could have ceased to exist in a matter of days, as did so much in March 2022. This would have meant persecution and genocide. In this sense, we are grateful. Because Ukraine is alive, stands and prays."
Addressing ACN, he said: "I am grateful to you for your prayers and for your demonstrations of solidarity, above all for such strong support. It strengthens us and encourages us to move forward. We have an obligation and a responsibility towards the victims of the war and future generations.
"The world order itself is at stake. There is no going back, as this would be to choose slavery. Man was created in the image of God. All human beings have the fundamental right to live in freedom on their land and to the benefits of being children of God."
Priests, religious and laity have survived harsh war conditions for 12 months, thanks to ACN support for vital projects such as providing food for thousands of people, including refugees, and helping to buy vehicles.
ACN was one of the first international organisations to provide immediate assistance to Ukrainian civilians, and a substantial part of its aid has gone to supporting work with the most vulnerable being carried out by both Eastern Catholic and Roman Catholic dioceses.