UKRAINE: Charity's record levels of aid for suffering Ukrainian people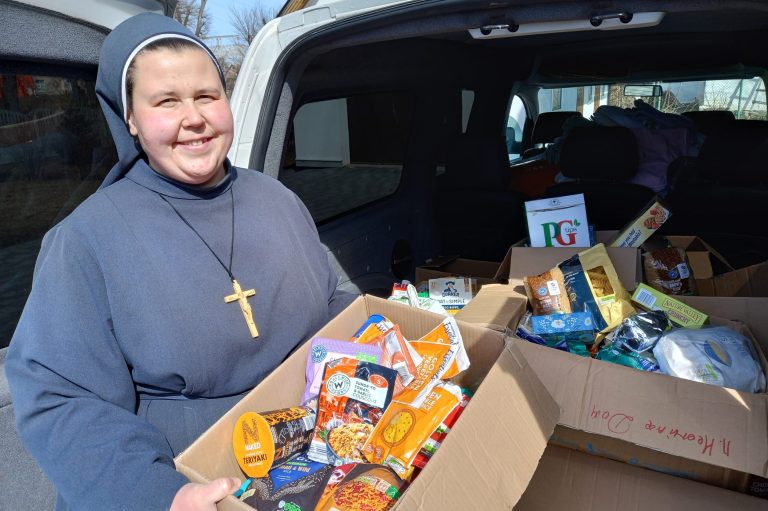 A Catholic charity has revealed that its support for the Church in Ukraine – which has come to the aid of those devastated by the war – topped €9.5 (£8) million last year.
Aid to the Church in Need (ACN) released its 2022 annual accounts today, which show that almost 10 percent of its aid went to support 353 vital projects in the country, including support for IDPs (internally displaced persons).
Bishop Yosafat Hovera of Lutsk, north-west Ukraine, said: "We sincerely thank Aid to the Church in Need, [its] colleagues and benefactors for the gesture of sacrifice, solidarity and support. We are praying for you and may God bless you."
As well as providing direct emergency aid for more than 2,200 IDPs via Church institutions, ACN has provided essential equipment – including portable ovens – for 231 parishes, monasteries, seminaries and other Church institutions caring for displaced families.
The charity has also provided subsistence aid for 7,447 priests, Sisters and who are providing spiritual and material support.
This includes the contemplative Benedictines in Solonka, western Ukraine, who suspended their cloistered way of life to open their doors to families fleeing the fighting.
They have welcomed more than 500 people since the conflict began.
ACN has also provided vehicles so that the Church can ferry relief to, places that are difficult to access as well as provide pastoral support.
Bishop Hovera added: "Under the conditions of war, Ukrainian society has been facing challenges with danger related to life, property and basic means of existence.
"However, seeing the support of the international community, we do not feel left alone with our difficulties.
"Priests and consecrated people, enduring all the problems caused by the war, keep supporting parishioners, refugees… and everyone searching spiritual and material help."
In 2022, the 23 national offices of ACN received more than €145 (£124) million from more than 364,000 benefactors around the world.
The charity does not receive any government or state subsidies for its work.
Africa received the highest amount of aid, receiving 31.5 percent of the charity's support.
Bishop Pavlo Honcharuk of the Roman Catholic Diocese of Kharkiv-Zaporizhzhia also thanked ACN for supporting the Church's essential work in Ukraine.
He said: "I would like, on behalf of all those who receive aid, as well as myself, to sincerely thank you all for your open hearts and your help.
"It doesn't matter whether it was a lot or a little, what is important is that you have not remained indifferent to our situation.
"I sincerely thank you – may God bless you."