UKRAINE: Ministering to those caught in the crossfire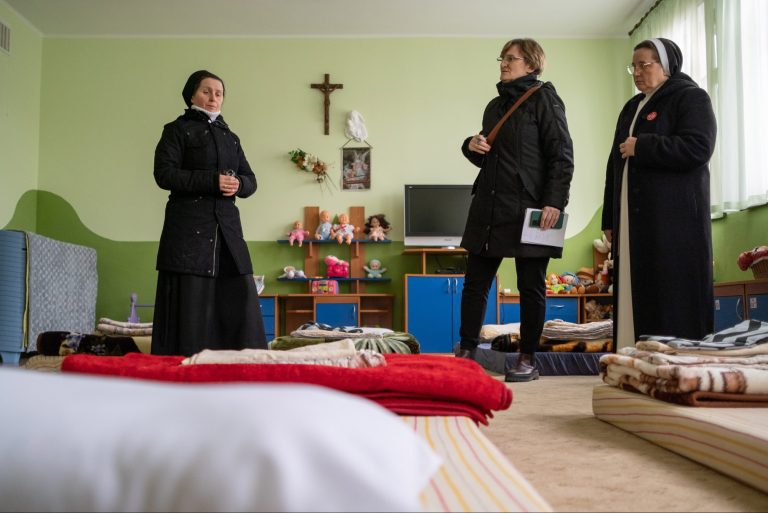 Returning from war-torn Ukraine, a Catholic charity's project head has said priests and Sisters caring for those living in war zones are living each day "as if it is their last".
Aid to the Church in Need (ACN)'s head of projects for Ukraine Magda Kaczmarek, who was coming back from her third project trip to the country since the Russian invasion, said the Church is ministering to the faithful in parts of the country where there are still running battles.
She said: "The whole of society is suffering. Millions of people have lost their means of subsistence and had to leave their homes.
"Their world has collapsed, they don't have work. Helping people in this situation is a work of mercy and a big challenge for the local Catholic churches."
ACN has supported more than 300 projects in Ukraine, amounting to over £8 million helping priests and religious communities to minister to those affected by the war.
Ms Kaczmarek said: "It is important for us to go there, to see the situation on the ground, but it is very dangerous to travel to the most difficult regions in eastern Ukraine.

"However, we are in contact with the priests, Sisters and bishops who live there. They tell us about conditions, and how they try to live each day as if were their last."
ACN has provided emergency aid for Kharkiv Diocese, among others, in eastern Ukraine.
Soon after the conflict began, the charity set up a programme to provide for the essential needs – including heating, lighting, water and food – of the diocese's 57 priests, as well as the 54 members of religious communities, enabling them to continue their vital ministry.
But with fierce fighting still engulfing the eastern part of the country, there is an ongoing haemorrhaging of the civilian population.
Ms Kaczmarek said: "Fifteen million people have left eastern Ukraine, seven million of them are in Poland or Western Europe, one million have gone to Russia, and seven million are internally displaced in western or central Ukraine."
She added that when she first visited Ukraine after the Russian incursion in February 2022 thousands of refugees had sought safety in western Ukraine.
She said: "80 percent were women with children, the elderly, and sick people, who tried to leave the country or to survive in the seminaries, monasteries and parish houses that opened their doors to them, waiting for the end of the war.
"Today there are less refugees in the west, but more in central Ukraine."
She added that the greatest challenge for the local Church would be to heal the psychological wounds caused by the conflict.
Major Archbishop Sviatoslav Shevchuk, head of the Ukrainian Greek Catholic Church, told ACN that 80 percent of the population needs trauma care, and ACN has signalled its willingness to support projects to address this looming crisis.
Ms Kaczmarek said: "People just wish for peace, and the Church is constantly praying with them for freedom.
"Families want to live together and not be divided, children want to have their fathers back, to be with their friends and to play with them, and not live in fear, far away from their houses.
"Their life has changed forever, and it will never be the same again."
Original interview by Filipe d'Avillez