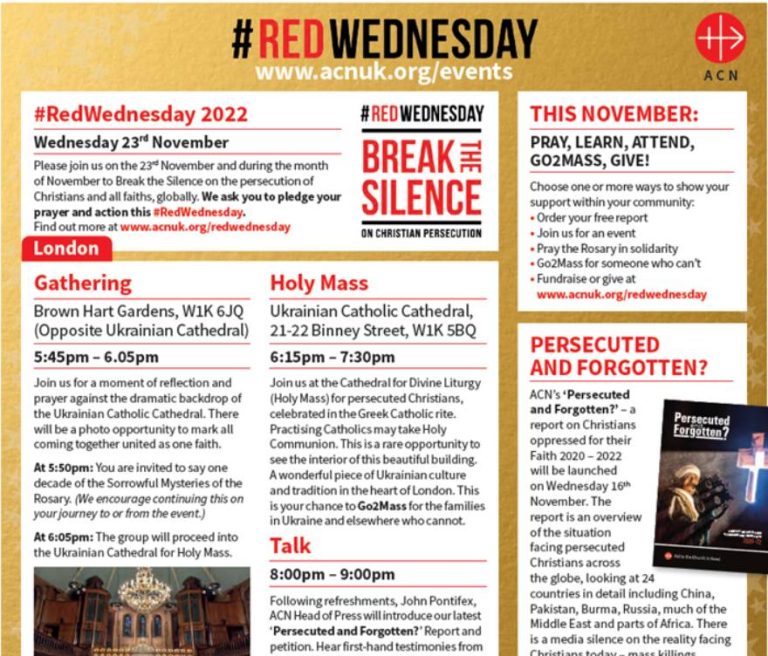 Please help us to grow this year's campaign by distributing our Events Poster and using our message in your parish, group or school newsletter.
#RedWednesday month starts in Novemeber. Can you help us by asking your Parish Priest to put this notice in your Parish Bulletin (newsletter, Mass notices), from this Sunday onwards to raise awareness and encourage action?
This November will you – in your community be it parish, school, family or social – help Aid to the Church in Need to 'Break the Silence' on the persecution and suffering of Christians? In countries where they face discrimination and the fear of kidnap, violence and death, Christians feel that their cries for help go unheard in the West. #RedWednesday is our chance as Christians to be seen, be heard and to make a difference. Please join us once again by wearing and using red – the colour of martyrdom – in solidarity, and by signing our #RedWednesday Petition calling for justice for Christians in Nigeria who are facing violent attacks.

To sign the Petition, request your FREE 'Persecuted and Forgotten' Report and for event details, including our London event at the Ukrainian Catholic Cathedral, head to ACN's website. You will also find individual, parish and school resources, including prayer and activity ideas and our 'Taste of Home' fundraiser. Please visit www.acnuk.org/redwednesday.
Thank you for helping to grow #RedWednesday and giving a voice to persecuted and suffering Christians.