Persecuted and Forgotten? 2017 – 2019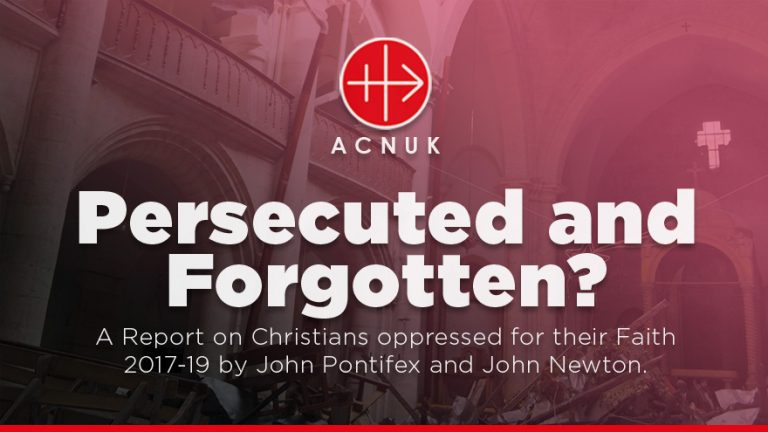 Persecuted and Forgotten? A Report on Christians oppressed for their Faith 2017-19 summarises the findings of ACN's ongoing research, assessing recent patterns of hatred and discrimination.
Persecution around the World
In Burma (Myanmar), 200 Christian leaders were detained, churches were destroyed and severe limits were imposed on worship, teaching, and evangelisation by United Wa State Army authorities.
In Central African Republic, The massacre of more than 110 people, mostly Christians at a Church-run displacement camp highlighted the scale of the internal conflict afflicting the country.
In China, difficulties for believers have increased as the new 2018 Regulations on Religious Affairs limit many religious activities to registered sites and introduce further restrictions.
In India, attacks on Christians were reported in 24 of India's 29 states. According to one calculation, there were 440 anti-Christian incidents in 2017, 477 in 2018 and 117 in the first quarter of 2019. Attacks include the killing of converts and sexual violence.
View Country Profiles
In spite of the growing wealth of information on the subject, the extent of the crisis facing Christians persecuted for their faith remains little known and understood. While statistical research has offered considerable insight into the topic of Christian persecution, some data has not stood up to scrutiny and is unable to demonstrate that the violence in question is religiously motivated. That said, studies consistently show that Christians suffer significantly high levels of persecution and intolerance.
This 2019 edition of Persecuted and Forgotten? examines key developments in 12 countries of core concern for Christians suffering human rights abuses. Covering a 25-month period from July 2017 to July 2019 (inclusive), the report draws on fact-finding trips carried out by Aid to the Church in Need staff to countries noted for persecution against Christians.
Christians emerge as the world's "most widely targeted" faith group, slightly ahead of Islam. In January 2019, Open Doors estimated in its World Watch List for 2018 that 73 countries with 245 million Christians "showed extreme, very high or high levels of persecution". This was up from 58 countries with 215 million Christians in 2017. The same survey showed that every day on average 11 Christians are killed for their faith in the 50 worst-offending countries.
---
Main Findings
Summary of findings from Persecuted and Forgotten? A report of Christians Persecution and Oppression in the World 2017 – 2019
Persecution of Christians in core Middle East countries such as Syria and Iraq has declined greatly following a period of genocide earlier in the decade.
The impact of this genocide – continuing migration, security crises, extreme poverty and slow recovery – means that it may now be too late for some Middle East Christian communities to
recover. In some towns and cities, the countdown to Christianity's disappearance is ticking ever louder.
The international community, while showing unprecedented concern regarding persecution, is running out of time if it wants to save Christianity in many parts of the Middle East. Measures taken to date may not be enough to secure the future of the Church's presence there.
From Nigeria in West Africa to Madagascar in the east, Christians in parts of Africa are threatened by Islamists seeking to eliminate the Church – either by use of force or by dishonest means, including bribing people to convert.
Persecution against Christians has worsened the most in South and East Asia. This is now the regional hot spot for persecution.
Church attacks in Sri Lanka and the Philippines show that there is now an unholy trinity of threats facing Christians in South and East Asia: Islamic extremism, popularist nationalism and authoritarian regimes.
An increasing unity of purpose between religio-nationalist groups and government represents a growing – and largely unrecognised – threat to Christians and other minorities in India, Sri Lanka, Burma (Mynamar) and other core countries in South and East Asia.
Around the world, Christians are a favoured target for violent militant extremists who operate without boundaries and who perceive local Christians as a legitimate alternative to a direct strike on the West.
Support Persecuted
Christians