IRAQ:
Can Christians return to Qaraqosh?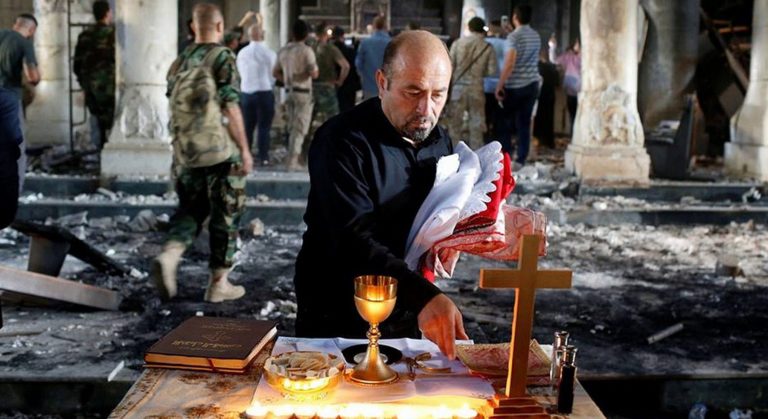 "The Daesh (ISIS) terrorists have destroyed a lot of my possessions, but I am still quite well off, considering the damage that I can see in my neighbours' houses – many houses have been burned or even completely destroyed. I have been blessed."
This was the assessment of householder Louis Petrus who fled Qaraqosh in August 2014 when the Christian town fell to Daesh.
Despite most of his belongings having been stolen or destroyed, he was optimistic when he returned there shortly after its liberation from the extremists.
Churches did not escape devastation. St George's Church became a Daesh bomb factory – and mannequins were taken from local shops and set up to form a shooting range in the Church of the Immaculate Conception. But that did not stop Christians celebrating Mass in the bullet-scarred Church when they went back.
The town is still not free from Daesh. Militants are hiding below the town in subterranean passageways. There are sightings but Daesh fighters usually disappear before security services can arrest them.
72-year-old Fr. Sharbil Eeso told us, "Last week, a jihadist emerged from the tunnel system which Daesh has built underneath the city. The red brigade of the army immediately shot and killed him." Sadly he revealed that the Daesh fighter was probably no more than thirteen years old.
Talking about the devastation Fr Sharbil said: "Despite all the damage, I have hope for the future. If our security is guaranteed, Christians can continue to live in Iraq. I want to return to Qaraqosh when there is electricity and water again."
Aid to the Church in Need is working with the local Church, drawing up plans to help the Christians driven from the Nineveh Plains to return, but until they can go home the charity is committed to continuing to provide essential aid for the displaced who fled Qaraqosh and other settlements on the Nineveh Plains.
Louis Petrus also hopes to return one day: "This is my country. As soon as it is safe in the city… I want to rebuild my life in Qaraqosh. This is my place, I shall remain here until I die."