First Sunday of Lent
Sunday 5th March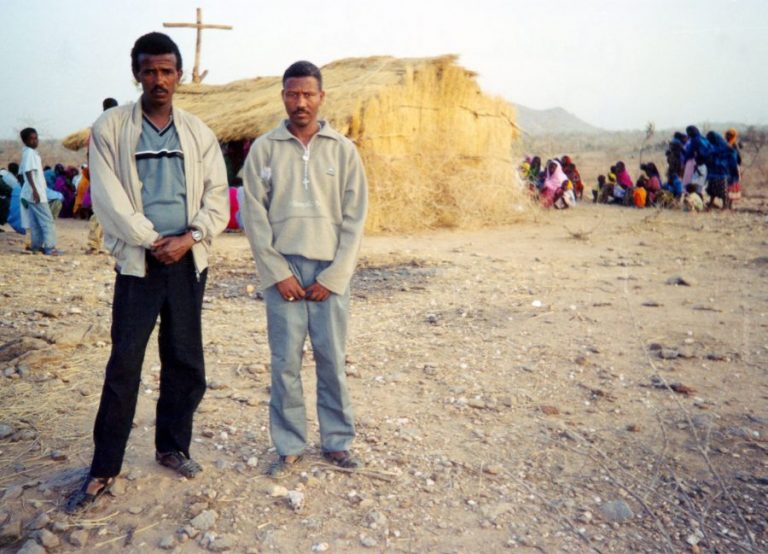 ERITREA: Voices of Suffering and Hope
State repression in Eritrea is so bad that it has been called the 'North Korea of Africa', with Christians tortured and unjustly imprisoned in inhuman conditions and churches under constant pressure and surveillance.  Two-thirds of the 3,000 people in prison for religious reasons are Christian.  Up to 5,000* people every month (*UN), flood into South Sudan and Ethiopia.
Islamist extremists in Libya routinely intercept refugees, killing any Christians they find. Two young brothers journeying to Libya from Eritrea describe having to deny their Christian faith to survive.
Haben, 19 said:  "The men come round with Kalashnikov and they ask you what your faith is. If you are Christian they take you away and kill you. They cut off your head or shoot you. This is what they have done to hundreds of Christians."
"How much longer can this chaotic human exodus go on? … Given that so many of these stories end in tragedy, is there no alternative solution?"   Extract from 'Where is your Brother?' from Eritrea's Bishops
Aid to the Church in Need is backing Church-run projects in Ethiopia and South Sudan, to provide emergency aid and spiritual support and comfort for Eritrean refugee families, many of them traumatised and exploited by traffickers.
Your parish fundraising for SURVIVAL PACKS could also help displaced and refugee Christians in Eritrea and Ethiopia.
PRAYER MATERIAL
First Sunday of Lent, Sunday 5th March
This Lent, please pray for Christians in Eritrea who live in fear and who need our prayers and our spiritual solidarity. #DontGiveUpOnThem  
Prayer
Let us offer to God all our sacrifices, sufferings and prayers this week for the Christians of Eritrea:
Heavenly Father, we ask for courage for the Eritrean Christians who live in fear.  Keep them safe and protect them from those who wish to destroy Christianity. May our persecuted brothers and sisters know your love and have the grace to stay faithful even under the most difficult conditions. Give hope and consolation to those whose lives have been uprooted.  Jesus, you who became human to set us free, liberate the thousands who are imprisoned in Eritrea and treated so inhumanely. Lord you defeated evil and sin on the cross, give comfort to those who are bereaved, stand beside those who are displaced and conquer all hearts which are hardened to your truth.
May we have the courage to announce your good news of peace this Lent. Help us to remember the suffering Christians in Eritrea, especially when we when we feel discouraged and apathetic towards our Lenten duties. Increase in us the gifts of faith, that we may know our prayers can change the world; hope, to believe that you will triumph even when all seems lost;  and charity so we may intercede selflessly and give what we can to those who so desperately need our help.
Amen.
Reading
EPHESIANS 6: 13-20
Therefore take the whole armour of God, that you may be able to withstand in the evil day, and having done all, to stand. Stand therefore, having girded your loins with truth, and having put on the breastplate of righteousness, and having shod your feet with the equipment of the gospel of peace;  above all taking the shield of faith, with which you can quench all the flaming darts of the evil one. And take the helmet of salvation, and the sword of the Spirit, which is the word of God. Pray at all times in the Spirit, with all prayer and supplication. To that end keep alert with all perseverance, making supplication for all the saints, and also for me, that utterance may be given me in opening my mouth boldly to proclaim the mystery of the gospel, for which I am an ambassador in chains; that I may declare it boldly, as I ought to speak.

Meditation
Jesus is the King of kings and Lord of lords (1 Timothy 6:15; Revelation 19:16) and has dominion over all authority on the earth yet he allowed himself to be handed over to Pilate for crucifixion. Even his own followers failed to really understand who he subjected himself to earthly powers. So too for those who suffer for their faith today.
We can question why God allows this to happen, why are his followers, 2,000 years later facing torture and death. Jesus said he was born to "bear witness to the truth" and Pilate, like many in our world questioned the existence of truth, saying: "Truth…What is that?" We do not dare think about the price the Christians in Eritrea are paying for that same truth today, but we believe the one who is the Truth will bring good out of this evil, just as he brought the ultimate good out of his own suffering and death. Let us challenge ourselves to trust that God holds us all in his care, even when the worst happens.  Jesus' kingdom was not of this world and neither is ours. Pilate washed his hands before he sentenced Jesus to be scourged to show it was not his concern. Do we wash our hands of responsibility for others who suffer? Jesus was stripped, spat at, struck on the head and humiliated with a crown of thorns.
Judas betrayed Jesus in the Garden of Gethsemane
Save those who are betrayed into the hands of oppressors today
Save us from indifference and apathy
The Chief Priests brought false charges against him
Bring freedom to those imprisoned for their faith
Save us from acceptance of half-truths and the temptation to bend the Gospel to suit ourselves
The soldiers brutalised him
Heal those who have been psychologically damaged from the persecution they have witnessed
May we never regard another person as anything less than a child of God
Peter denied him
Comfort those who have feet that denying their faith was their only choice. Enable them to know that you still love them
May I never deny the truth of the Gospel even in small, seemingly insignificant ways…but if I ever do, may I return to you with confidence in your love and greater trust in your promises
His friends abandoned him
Lord only you can heal the broken-hearted who have been abandoned by their friends and neighbours. Stand with those who are alone.
Help us this Lent to find ways to help those who are alone
Pilate sentenced him
May all the Christians who have been sentenced to death in Eritrea and across the world be brought to eternal life with you
Lord, change the hearts of those who wish to pass sentence on others
"We still see today our persecuted brothers, decapitated and crucified for their faith in you [Jesus], before our eyes and often with our complicit silence,"
 Pope Francis said, presiding over the ceremony at the Colosseum. Good Friday 2015