BRAZIL: Church "in midst of the storm," say bishops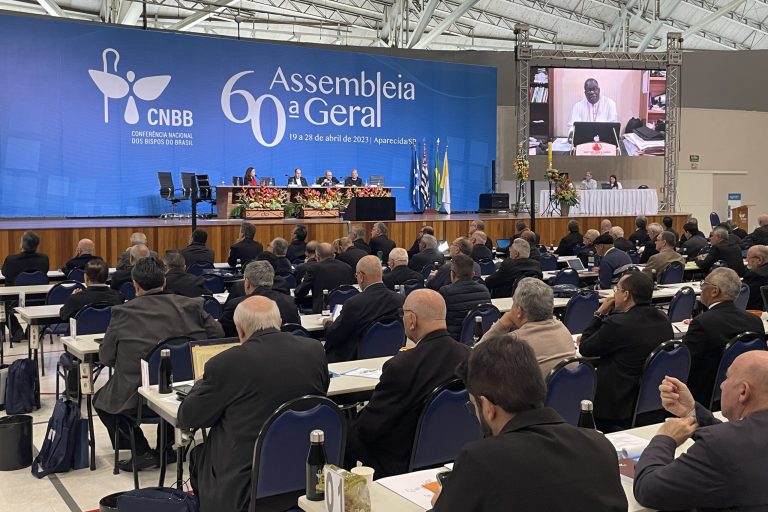 The Brazilian Church is facing crushing challenges amid some of the most turbulent years in the country's history, according to the Conference of Brazilian Bishops (CNBB).
The past four years have been a stormy period because of growing political polarisation and the effects of the COVID-19 pandemic, Archbishop Walmor Oliveira de Azevedo, of Belo Horizonte, told Catholic charity Aid to the Church in Need.
Archbishop de Azevedo said: "In the midst of the storm, CNBB was like a boat in the middle of this difficult crossing, but the Lord called on us to seek hope."
Rafael D'Aqui, ACN (International)'s Head of Projects for Latin-America who attended the meeting in Aparecida, São Paulo, heard stories about a Church that is tackling momentous challenges as a result of social conflict and other problems.
Mr D'Aqui said many bishops spoke about "the reality of drugs and the accompanying violence, which is like an open wound that affects pastoral work."
Some dioceses are also "racked by illegal mining operations," according to D'Aqui.
A number of parishes are around 310 miles (500 kilometres) away from the diocese centre in the world's largest Catholic country, which also causes pastoral difficulties.
Mr D'Aqui said he was struck by the "gratitude of the bishops to ACN and its benefactors, for all that they have done for the suffering Church in Brazil, in the Amazon region, in the countryside, from north to south.
"I had bishops in tears, telling me that they can carry out their pastoral ministry thanks to the support of the generous men and women who contribute through ACN."
CNBB is one of the largest gatherings of Catholic bishops in the world, with more than 300 hierarchs representing the country's 279 jurisdictions, as well as 100 retired bishops.
At the meeting, the bishops reviewed the last four years and elected new officers for CNBB.
ACN gave a presentation about the persecuted Church in other countries, including Nigeria.
In a video message to the conference Bishop John Bogna Bakeni, Auxiliary Bishop of Maiduguri, Nigeria, said: "Since 2009 the Islamist group Boko Haram has been inflicting mass terror against civilians, killing over 60,000 Nigerians, abducting thousands and forcing millions to leave their homes.
"We need help, and we need you to exert whatever influence you can on our government to strengthen religious freedom."
Bishop Bakeni ended his message by expressing thanks to ACN for supporting Nigerian Christians through prayer, solidarity and financial assistance.
With thanks to Rodrigo Arantes