CHILE: Priest whose church was desecrated warns the faithful against seeking retribution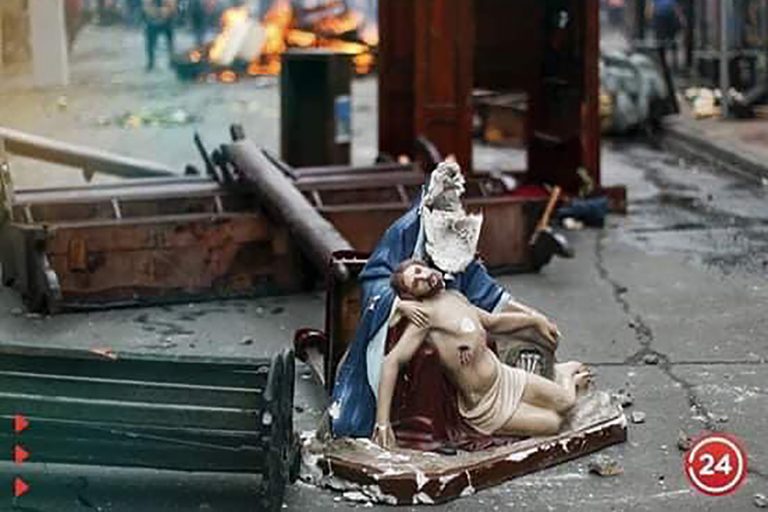 A priest, whose church in Chile was attacked and covered in satanic imagery and graffiti by hooded protestors, has begged his parishioners not to respond in anger.
The demonstrators broke into the Church of the Assumption, in Santiago, the capital, and set fire to pews, statues and other sacred images, many of which were dragged out of the church to make barricades against police.
Following the attack, the parish priest, Father Pedro Narbona, who is also National Ecclesiastical Assistant for Catholic charity Aid to the Church in Need (Chile), told parishioners "not to slip into the cycle of hatred that can only end up poisoning the souls".
He added: "The Church is built not so much out of physical materials, but rather of the living stones, which we [all] are… We are the living stones and this is the fundamental truth."
The attack on the Church of the Assumption – part of a spate of attacks on churches in Chile – came during protests sparked by the government of President Sebastian Pinera's decision to increase the prices of subway tickets.
A week earlier, on 1st November, there was another attempted attack on the Church of the Assumption but Father Narbona called the fire brigade in time.
The church of Vera Cruz, Santiago, Vilparaiso Cathedral, and the parish of Saint Teresa of the Andes in Villa Alfredo Lorca, Punta Arenas, were also attacked over the past few weeks.
Maria Covarrubias, National Director ACN (Chile), expressed horror at the attack.
She said: "We are deeply concerned and unhappy at the turn the violence has taken in recent days, even affecting the Church.
"We have witnessed a new act of desecration against a Catholic parish, which is all the more painful to us in ACN, as a Catholic pastoral foundation.
"We ask your prayers at this difficult time for our ecclesiastical assistant and his parishioners, for peace in our country and that God may convert the hearts of those who have committed these lamentable acts."
The protests have raged for over three weeks and have left at least 20 people dead.
The Chilean Red Cross estimates 2,500 have been injured.
Despite expressing sympathy with the protestors, the Catholic Bishops Conference of Chile condemned the attack, stating: "An attack on temples and places of prayer, without any respect for God or for those who believe in Him, causes us pain."
They added that violence "prevents us from giving the right amount of attention to the claims of the majority of the Chilean people who yearn for real and peaceful solutions".