INTERNATIONAL: Christian persecution expert from Northern Ireland to lead top Catholic charity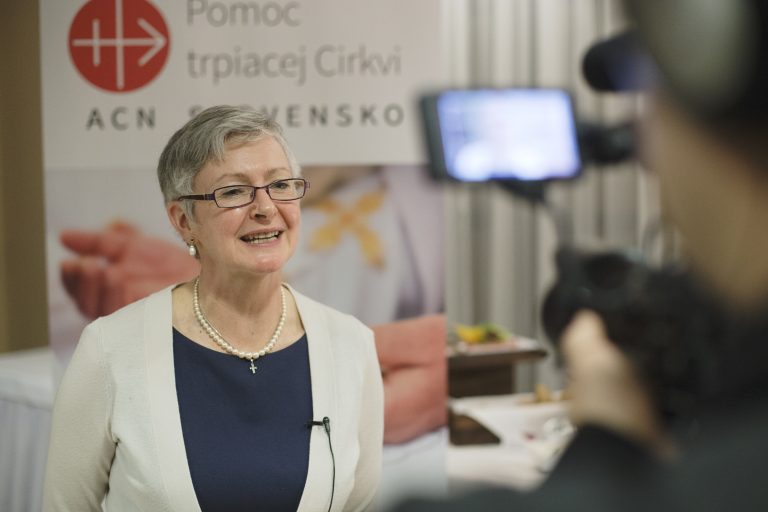 A woman from Northern Ireland with more than 40 years' experience helping persecuted Christians has been named as the next International Executive Director of Aid to the Church in Need (ACN).
It was announced today (Thursday 1st June), that Regina Lynch will be taking up the role at the charity's international headquarters in Königstein, near Frankfurt, Germany on 14th June.
Responding to the announcement, she said: "In an ideal world, there should be no need for a charity like ACN but sadly our service to the suffering and persecuted Christians around the world is as necessary as ever.
"I feel both humbled and privileged to take on the role of Executive President of our papal foundation for the next five years and with God's help and the prayers of our benefactors I will do my utmost to ensure that ACN remains faithful to its mission."
Ms Lynch, who will succeed Dr Thomas Heine-Geldern in the role, has worked at ACN's international headquarters since 1980.
In 2008 she took over as Project Director, becoming responsible for overseeing almost 6,000 projects in more than 140 countries that the charity supports each year.
During her time with ACN, she has visited more than 40 countries where the charity is helping, building relationships with project partners, branches of the Church and other charities.
Speaking before last year's #RedWednesday, the ACN initiative shining a light on persecuted Christians, she said: "An important part of our work is listening to those communities, being in dialogue with the local Church, understanding their needs and how that fits in to the work we do."
In March 2021 she accompanied Pope Francis on his trip to Iraq, as a representative of ROACO (Riunione Opere Aiuto Chiese Orientali), the Congregation for Oriental Churches' charitable arm.
ACN provided more than £40 million to help Christians forced from the Nineveh Plains by Daesh (ISIS) in June 2014 – including backing projects to help them return to their homes.
In her new role, Ms Lynch will be responsible for the direction and management of the international foundation.
She will represent the charity externally, reporting directly to the Supervisory Board under the chairmanship of ACN's International, President Cardinal Mauro Piacenza.
Departing Executive President Dr Heine-Geldern paid tribute to his successor, he said: "Regina Lynch knows and loves ACN. She enjoys the highest recognition inside and outside of the foundation.
"And she is a guarantor that ACN will continue to develop in the fulfilment of its mission."
Dr Heine-Geldern, who was Executive President from 2018, led the charity during increasing Christian persecution and the COVID-19 pandemic.
Marco Mencaglia, who has worked for ACN since 2014, took over Ms Lynch's post as head of the Project Department in April 2023.
The same month Father Anton Lässer, CP was appointed as ACN's Ecclesiastical Assistant, replacing Father Martin Barta, Opus JSS who left after 13 years to take on a new role within his order.