EL SALVADOR: Honouring the memory of Church martyrs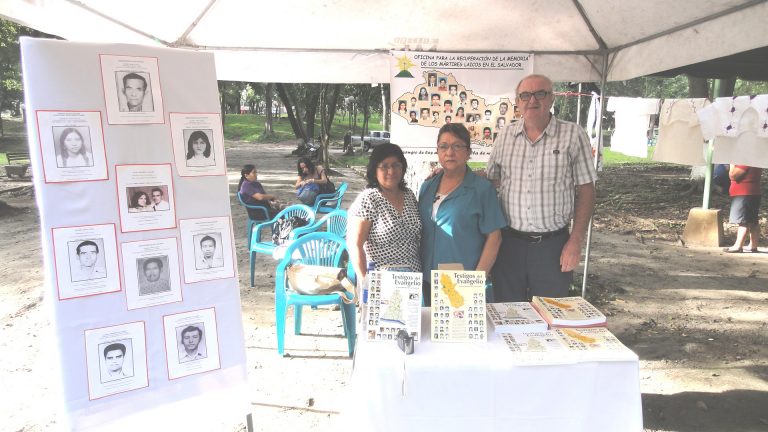 Martyrs of El Salvador are remembered in "Witnesses of the Gospel", a series of 14 books – one book for each province in El Salvador – detailing in more than 800 testimonies the ultimate sacrifice made for Christ.
pay tribute to and honour the martyrs
Aid to the Church in Need, the Catholic charity for persecuted and other suffering Christians is supporting this project as it serves as a witness to the truth of the violence suffered by the faithful in the country. One powerful instance of the suffering endured is the story of Noé Arsenio Portillo López. The 22-year-old catechist was kidnapped as he left Mass together with his mother. He was tortured for three days. The book states: "The various extremities were severed from his body one after the other before he finally was decapitated."
The charity interviewed Franciscan Fr Tomás Ciaran Ó Nuanain, an Irish missionary, about the Catholic martyrs killed during the Salvadoran Civil War.
Speaking of the suffering Church's numerous martyrs from the Latin American country, Fr Ó Nuanain described the collection as "our efforts to look back on and reappraise the past… to pay tribute to and honour the martyrs."
Blessed Archbishop Óscar Romero is the best known martyr from El Salvador. He was shot dead while celebrating Holy Mass in 1980. Prior to his death, he spoke of the positive challenges in Christianity, he said: "I don't want to be an anti, against anybody. I simply want to be the builder of a great affirmation: the affirmation of God, who loves us and who wants to save us." Pope Francis referred to the blessed martyr's dedication to helping the poor during his beatification on 23th May 2015. According to the Holy Father: "Bishop Romero paid particular attention to the most poor and marginalised. He knew how to lead, defend and protect his flock, remaining faithful to the Gospel and in communion with the whole Church."
We would like to promote a real peace
Fr O Nuanain described how polarised and frightened society was in El Salvador, he said: "A strong minority supported Bishop Romero and his fight for the rights of farmers. A further strong minority was against this. The others did not take a clear stance. It was dangerous to support the farmers, the clergy was completely divided. It was very sad because many politicised the Gospel." He added: "But all of us who fought for the dignity of the most needy were threatened and persecuted. I just did not want to be tortured before I died."
The charity is supporting the project remembering the martyrs in, Mr Marco Mencaglia, head of ACN's El Salvador projects in Latin America said: "We would like to promote a real peace… bearing witness for these thousands of believers continues to be much stronger and more impressive than the terrible violence they suffered."
Aid to the Church in Need – www.acnuk.org contact: [email protected] or call 020 8642 8668
Article first published in The Portal http://www.portalmag.co.uk/