IRAQ: Charity gives aid to repair 2,000 homes for Christians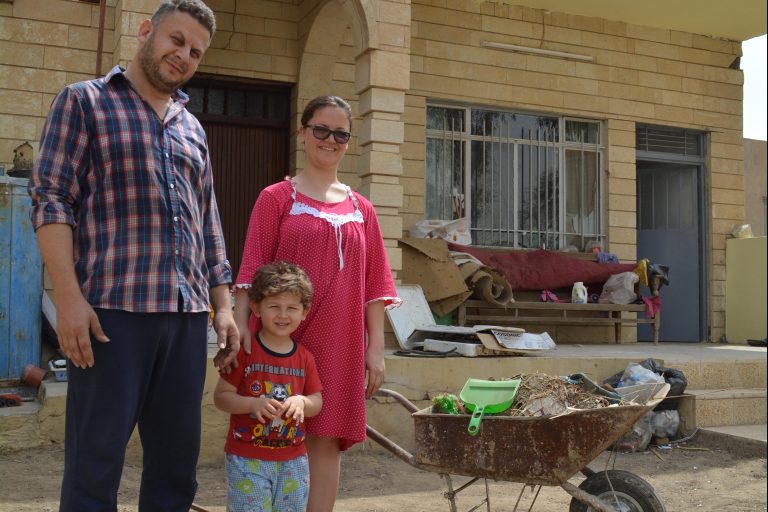 Christians forced out of their ancestral lands in northern Iraq are rejoicing after a leading Catholic charity announced an urgent injection of aid to rebuild an extra 2,000 homes.
The US$5 million (£3.6 million) package from Aid to the Church in Need will support projects renovating 2,000 houses on the Nineveh Plains –1,500 in Qaraqosh and 500 in Bartella, Bashiqua and Bahzani.
Renovating 2,000 homes on the Nineveh Plains
ACN's international executive president Baron Johannes von Heereman, who has met with displaced families in the Iraqi Kurdish capital Erbil, stressed the urgent need to provide help.
He said:  "If we do not do everything in our power to support this first third of returning Christians, they will leave their towns again – and perhaps even the country – for good."
ACN Middle East projects head Father Andrzej Halemba said he was encouraged that up to 35 percent of Iraq's Christian had already returned to their homes.
He said: "More than 30,000 Christians have in the meantime gone back to where they lived before the Islamist terrorist groups invaded.
"However, their situations are anything but easy."
Father Halemba said that Christians are facing high heating and electricity costs due to a severe winter.
He added that although Daesh (ISIS) had been defeated in the region, their extremist ideas had taken root in some sections of society.
Rebuilding is being overseen by the Nineveh Reconstruction Committee (NRC), which was formed by the Chaldean, Syriac Orthodox and Syriac Catholic Churches.
Since it was set up in late March 2017, the NRC has rebuilt nearly 3,000 houses – with ACN providing support for the renovation of 784 homes.
Aid package a stopgap measure until more charities and governments back NRC
The latest aid package is a stopgap measure until more charities, governments and NGOs back the NRC scheme.
Father Halemba said: "It will be possible to achieve the greater objective – namely, to restore 6,000 houses – only if we provide concrete aid together with other players and only if this region is not left to its own devices.
"This would enable at least each second displaced person of the Christian minority to return.
"Otherwise, we have to fear a reversal of the currently still tangible homecoming process."
Father Halemba added that to keep people from emigrating from the area, further steps needed to be taken to ensure long-term security.
Since 2014, when Daesh seized the Nineveh Plains, Aid to the Church in Need has provided more than US$40 million (£28 million) for Iraq's Christians.
ACN provided nearly half of all emergency aid – food, medicine, shelter and schooling – for displaced families supported by the Chaldean Archdiocese of Erbil.
Iraq's Prime Minister Haider al-Abadi has stated that his country needs more than US$97 billion (£70 billion) to fix crumbling infrastructure.
There were more than 1 million Christians living in Iraq before the fall of Saddam Hussein's regime in 2003.
Numbers have declined to between 200,000 and 250,000 today.